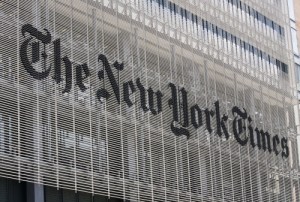 Former New York Times publisher and chairman Arthur Ochs "Punch" Sulzberger, Sr., who ran the paper from 1963 to 1992, has died. The Times reports Mr. Sulzberger passed away at his Southampton  home on Saturday. The senior Sulzberger piloted the paper through the rough seas of the late 1960s and early 1970s and was primarily responsible for pulling the trigger on one of the biggest exposés of the Vietnam War, the Pentagon Papers:
Mr. Sulzberger's insistence on independence was shown in his decision in 1971 to publish a secret government history of the Vietnam War known as the Pentagon Papers. It was a defining moment for him and, in the view of many journalists and historians, his finest.
The publication of the Pentagon Papers led to a major Supreme Court ruling in favor of press freedom and in 1972 netted the Times a Pulitzer Prize.
Though Mr. Sulzberger passed publishing duties at the Times to his son Arthur Jr. in 1992, he stayed on as chairman for five more years, officially retiring in 1997. The Times reports he died after a lengthy illness.
Mr. Sulzberger was 86.