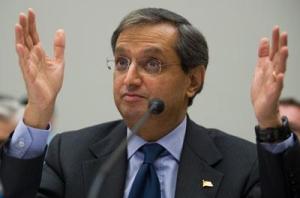 There was a funny thing that happened this summer, which is that Mr. Universal Banker Sandy Weill went on CNBC and said that the supermarket model of banking that he pioneered was a good idea at the time but no longer the correct thing, and everyone who was anybody weighed in on the question, except for the guy who should have felt the most defensive about it, who curiously bit his tongue for a month, then managed the retort that banking mergers were a strategy but that actually he, Vikram Pandit, had managed to mold Citigroup (C) into just the right size.
Well, now we have one possible answer for why Mr. Pandit took so long to respond to Mr. Weill, which is that maybe he was praying on it. He's done it before. Speaking last night at the Appeal of Conscience Foundation benefit at the Waldorf Astoria, the Citi CEO mentioned a trip to a certain holy city a couple of years ago.
"This was still a time of recovery after the financial crisis," Mr. Pandit said, according to Bloomberg. "Like many visitors I went to the Western Wall. I wrote my prayer on a piece of paper, folded it and placed it between two of the stones. Now, I can't tell you what it said. But the next day the U.S. government decided to sell its remaining stake in Citi stock."
Which was nice.