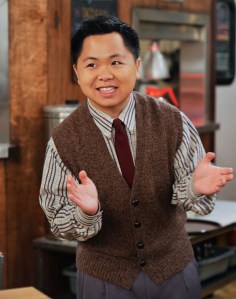 Last season, television's most anodyne evening got a shot of hipness in the form of Sex and the City executive producer Michael Patrick King's new series, 2 Broke Girls. The CBS comedy about young ladies in Brooklyn was an instant hit, kicking off a season-long discussion about girl-women on TV (viz. Girls, New Girl) and getting hailed as a slice-of-life comedy by those who thought that a permanent war over the sartorial choices of "hipsters" coupled with the protagonists' burning ambition to open a cupcake shop seemed an apt depiction of life in the big city.
But there was another element to the show—something we hadn't seen in a while. The Tiffany Network's new Monday night sitcom was brazenly, shockingly, unapologetically racist.
Among the tokenish cast of minorities called upon to behave in baldly stereotypical ways are restaurant manager Han Lee (Matthew Moy), who comes in for mockery for his apparent asexuality and his utter misunderstanding of American culture. (Are his hilarious mispronunciations an homage to Mickey Rooney's unforgettable turn in Breakfast at Tiffany's?) Earl, played by Garrett Morris, is a hep-cat jazz musician of the sort one might encounter if whisked back in time half a century or so, or in the reeaal cool fantasies of a white person who's never met a black person, while Oleg (Jonathan Kite) is a sexually voracious Ukrainian with a pan-Eastern European accent. "You're so stinky, my mother in Korea called me and said, 'What's that smell?'" Han tells Oleg in a typical moment of sparkling repartee. To which Oleg replies with an unkind evaluation of the boss's manhood.
It's almost enough to make you long for the days of NBC's Must-See TV—or even the springtime debates over Lena Dunham's Girls—when we all complained that prime time was too white!
When asked about 2 Broke Girls's use of stereotypes, Mr. King offered up his own homosexuality as a sort of license to offend.
"I'm gay," the producer said at this year's Television Critics Association press tour. "I put in gay stereotypes every week! I don't find it offensive. I find it comic to take everybody down, which is what we are doing."
Gay male humor has historically been predicated on an irreverent disdain for propriety—which, in this day and age, has apparently come to include the gleeful bashing of ethnic minorities. After all, if you're gay, you're a minority too: it's a rainbow-colored "get out of jail free" card, per Mr. King's argument, entitling the bearer to say whatever he likes. "What is or isn't acceptable as funny in 2012 seems to be a very abstract idea," Mr. King wrote in a recent essay in Entertainment Weekly (not online). He added that the way he knows that his gags about race do not cross the line is that the live audience at 2 Broke Girls tapings laughs.
The argument makes you wonder where exactly the show recruits its live audience. Just because idiotic racial humor has a fan base doesn't mean it belongs on prime-time television.
Besides which, there's a difference between laughing because something is funny and laughing because it is shocking or transgresses certain boundaries of taste. Take the new NBC comedy The New Normal, whose title refers to gay male parenting but could also be taken as an allusion to the increasingly racy and race-conscious television landscape. The show's creator, Ryan Murphy, whose other current network series is the racially diverse, often irreverent Glee, seems to think that bigoted humor is the fabric that knits a family together. In a recent episode, a racist lady-of-a-certain-age played by Ellen Barkin finally comes to accept the gay man (Andrew Rannells) for whom her daughter is acting as a surrogate. They bond over an ethnic joke—something about adopted Chinese babies coming with egg rolls. It's sort of a heartwarming moment, but not quite. The family that mocks Chinese babies together stays together?
The series's sole regular minority character is Mr. Rannells's assistant at his haute TV-production job. She's a brash, aggressive black woman of the sort that's been sassing up the small screen forever, or at least since the heyday of Jackée.
Interestingly, the assistant on The New Normal is played by a Real Housewife of Atlanta, NeNe Leakes, meaning that she came to national attention under the watchful eye of Andy Cohen, the Bravo executive. Mr. Cohen, who also happens to be gay, seems to have his own blind spots when it comes to racial humor. A recent leitmotif of his talk show, Watch What Happens, involves the host, lovingly or not, replaying for laughs a local news clip of a heavily accented black woman talking about her house catching on fire. It's not impossible for ethnic humor to be funny—far from it. But there's a certain humanity missing from these shows, where the object of humor isn't other characters but simple stereotypes. And while gay producers certainly didn't invent narrow-minded humor, they have lately made it their own.
Should we just come right out and call them the Gaycists–those who hold what Lauren Bans of GQ first defined as "the wrongheaded idea that having gay characters gives you carte blanche to cut PC corners elsewhere"? Let's. A further definition: Out gay men whose knowing, ironic appropriation of racist tropes, and whose self-aware frankness about their own prejudice, sashays right across a line the rest of us have come to respect.