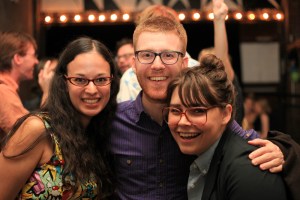 We have reached a stage in the life of New York or the life of literature (or both) where a glance at the bio of most contemporary authors inevitably ends with the words "lives in Brooklyn." Not surprisingly, a literary festival exists to celebrate the borough's bibliophiles. The Brooklyn Book Festival, which will take place this Sunday, means that many writers won't even have to get on the subway in order to read aloud and sit on panels in front of enthusiastic readers.
To kick off the literary festivities prior to the literary Festival, Tumblr, Electric Literature, The New Inquiry and the Los Angeles Review of Books threw a party. (Book people love parties.) Shindigger, being notionally bookish ourselves, followed the parade of tote bags until we reached the Williamsburg event space Public Assembly. After getting a temporary tattoo stamped on our inner wrist, we entered the darkened hall.
The drinks were cheap, the music loud and the lights dim as publishing professionals, indie writers, indie booksellers and indie magazine editors shouted above the DJ to discuss Important Contemporary Fiction and trade industry gossip.
"Anything by Lorrie Moore speaks to a certain kind of person," novelist Jami Attenberg said when we asked her what books she recommends. "Junot Díaz is a fucking genius—can I say that?" We were unsure if she meant the sentiment or the swear.
"The funny thing about book parties is that you take a bunch of introverts, put them in a room and get them drunk," said Jason Oberholtzer. Mr. Olberholtzer is a Tumblr success story—his Tumblr, I Love Charts, was turned into a book of the same name.
Tumblr stickers and pins (the sort middle-schoolers affix to their jean jackets) were strewn around the tables. Greenpoint bookstore Word sold books by authors who are speaking at the Brooklyn Book Festival on Sunday, and the paperbacks went first and fast.
"This is my event—$3 gin and juice, what's not to like?" Edith Zimmerman, editor of The Hairpin, told us when we asked her plans for the festival. Has she read anything exciting recently? "I just read the internet. It's terrible." She sipped on her gin and juice, and we suppose she looked laid back.
The Dangers of Proximal Alphabets author Kathleen Alcott looked more Madison Avenue than Bedford Avenue with her bright blond hair, pocketbook and well-cut pastel outfit. Although we thought she was too put-together to be at a party with $3 drink specials, as it turns out, Ms. Alcott does, in fact, live in Brooklyn.
"You must get this all the time, but what are you listening to  now?" we overheard someone ask New Yorker music critic Sasha Frere-Jones.
"I have a Google Doc," replied Mr. Frere-Jones. We weren't sure whether he was offering to share the document or not.
"I'm excited about my own book—am I allowed to say that?" asked Cole Stryker, author of Hacking the Future. We assured him he was.
"As far as lit parties, this one has the dimmest lighting. Usually, they have bright lighting," Mr. Stryker explained. "There are a lot of nervous people here wondering if there's going to be dancing."
As we walked away from Mr. Stryker, we heard a cluster of young men in plaid debating the lack of a lifestyle magazine "for teenage guys."
If, as Mr. Stryker suggested, people were wondering whether there was going to be dancing, they didn't have to wonder for long.
"People are already dancing. Jesus," someone said, near the vicinity of the dance floor. It was only 8:30.
Sean Howe, who has a book coming out on the history of Marvel Comics, told us that he was going to speak on a panel with legendary Nation editor Victor Navasky. Was he nervous?
"The last time I was on a panel, I got tunnel vision," replied Mr. Howe. Why put himself through that again? He shrugged.
Matthew Specktor, the senior fiction editor of the LA Review of Books, a host of the event, represented the West Coast. The drink specials were $3 Brooklyn lager and $3 gin and juice, and the Facebook invitation suggested that the drinks were standing in for a proxy battle between coasts.
Well, who was winning?
"Everyone here is involved in literature, so we are all winning or losing together," he said, adding, "There is more than enough literary seriousness in LA to power a small nation."
Although Mr. Spector told us that the East Coast/West Coast divide is false, he did roll his eyes when mentioning Southern Californians' penchant for yoga and juice cleanses. Since we walked by three yoga studios and one sterile-looking new juice cleanse bar just on the walk from Bedford to the party, we assured him that New York wasn't that different.
Mr. Spector nodded, we think a bit sadly (although that may have been reflected glow from the disco ball).
"Incandescent joy, unbridled happiness, metaphysical ecstasy," gushed Rachel Rosenfelt, the editor-in-chief and founder of lit mag The New Inquiry, when asked about her night.
"There are a lot of blazers in play, and the dancing is hilarious," said Amy Rose Spiegel, a Rookie Mag writer. She had very long false eyelashes, which we found impressive. "I'm having a bawl," she added, requesting that we spell it to reflect her Jersey pronunciation.
People did seem to be having a good time. Nevertheless, when we heard one partygoer say, "She's, like, doing something about smells and cultural associations," we decided it was time to leave.