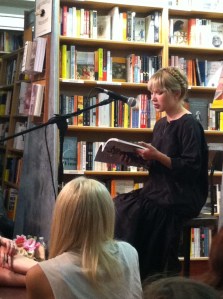 They grow up so fast. Rookie, the online mag founded by Tavi Gevinson, the former tween fashion blogger turned editor and patron saint of alt girls everywhere, turns one this month.
Girls between the ages of 12 and 20, as well as a smattering of boys and grown-ups, filled the downstairs of McNally Jackson last night to meet the girl who started a style blog when she was 11 and now seems to be heading a feminist resurgence, infused with 90's nostalgia and go-girl self-acceptance, at the release party of Rookie Yearbook One. The book is a collection of pieces from the site's first year, edited by Ms. Gevinson.
"I feel so old," hissed a woman in her early twenties.
"She might be like 16, I don't know," we overheard someone say, referring to Ms. Gevinson. She is.
"Everyone has Tavi's haircut," noted someone else in the crowd. Ms. Gevinson wore her blond hair in braids pinned atop her head, so we couldn't actually see her haircut, but the crowd's sartorial inspirations were obvious. Floral crowns (a Rookie DIY project from last year) dotted heads in the audience, who sat cross-legged on the floor.
Soda in fun flavors like pineapple and orange, candy necklaces, blow-pops and other assorted candy stood in for the usual book event wine.
Contributors to the magazine read their pieces from Rookie Yearbook on subjects like hooking up with a guy over a shared love of the Smiths, dealing with a mother's disappointment after coming out and the stupidity of calling things "guilty pleasure" and liking things ironically ("Cool and interesting are in the eye of the beholder, and that is you.")
"I hope that I have daughters and I hope that they grow up in a world where this exists. And thank you Tavi for doing this," said guest reader Lena Dunham. Based on the crowd's enthusiastic response to Ms. Dunham, they must have HBO. Ms. Dunham read from her recently found "millennium journal" to people who were either toddlers or in utero at the end of the millennium. She also read a new piece about running away from home off of her iPhone.
Tavi Gevinson stood in the corner of the room throughout, looking proud. When it was her turn on stage, the applause and cheers swelled, which was notable since teenage girls clap and cheer a lot.
"My face hurts from being in permanent heart-melt," she said, before reading an essay she wrote called "How to Not Care What People Think of You."
Novelist Emma Straub wore a floral crown as she read a piece about her memory of high school friendships. Sarah Sophie Flicker, the trapeze artist, writer and style icon, before reading from a piece about not being a perfect mother or person. She ended by advising the crowd to talk to their moms. Grown man and comedian Dave Hill read a piece about asking a girl out in high school.
The final act was a Q&A. The audience asked the Rookie staff and contributors for advice about life, feminism, family and friendships (boys, relationships, and sex didn't come up, which is not how we remember high school).
One girl asked for hair advice ("wear it curly!). Another asked for advice on staying close to a friend who moved away (make mixed cds and talk on the phone a lot). A middle-aged man asked for writing advice and got cheers when he told the crowd that he had recently come out of the closet.
A 12-year-old girl said that after she told a middle school boy that she was a feminist he kept bringing it up. She wanted to know if people are afraid of her for being a feminist. "Yes! They are afraid," was the consensus.
Lena Dunham wanted to know what people want to see on television. "When your parents find your sex toys," suggested one Rookie contributor. "Female jealousy," suggested another.
We slipped out as the crowd jostled into an orderly line to get their books signed by Ms. Gevinson. As we left, we felt our own cynical heart melting from the contagious, rah-rah, "You go, girl!" earnestness, and wondered whether we will ever be as composed and mature as Ms. Gevinson and her fans.