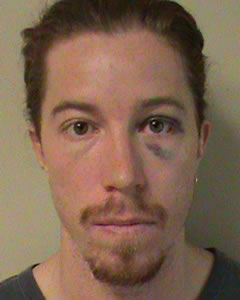 Famous Olympic snowboarder and über ginger Shaun White apparently had way too much fun in the Music City Sunday night. In the end the 26-year-old gold medalist had vandalism and public drunkenness charges in addition to a black eye to show for his trouble.
A press release from Nashville police indicates cops were called to the Loews Vanderbilt Hotel early Sunday to find a very drunk Mr. White in the midst of some pretty un-Olympian behavior. He had already allegedly set off a fire alarm, causing a full-blown evacuation, and reportedly destroyed a phone. The police might as well have cued up "Yakety Sax" for what happened next:
White reportedly attempted to flee the hotel in a cab but a citizen prevented the cab from leaving, telling the driver he was calling police. When White overheard their conversation, he allegedly kicked the citizen and fled on foot. The citizen reported that he chased White until White turned and ran into him apparently causing White to fall backwards and strike his head against a fence. White was transported to a local hospital for treatment. He was released from the hospital late this afternoon and is free on his own recognizance. The citizen declined to prosecute White for assault.
When Nashville P.D. tried to get Mr. White to sign the citations against him he refused, so he was arrested. The snowboarding icon was treated for his injuries at Baptist Hospital and released on his own recognizance.
Mr. White hasn't made any public statement, but his final tweet on September 16, since deleted, may say it all without actually saying anything.