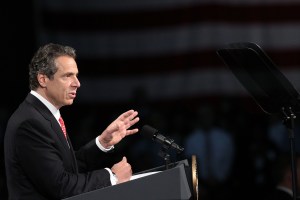 Governor Andrew Cuomo took an unusual step this afternoon and endorsed a member of the Senate Democratic conference, Adriano Espaillat, for reelection. Mr. Cuomo has had a fairly frosty relationship with the Senate Democrats, usually preferring to side with the Republican majority on contentious issues like redistricting, pension reform and the like, so his first endorsement of a Democratic candidate for the State Senate is notable.
To illustrate the point, Mr. Cuomo declined to go out of his way to endorse Democrat Lew Fidler in his infamously close special election for the State Senate earlier this year, despite the fact that he endorsed in a Democrat vs. Democrat special election in the State Assembly that occurred on the same day. Mr. Fidler went on to lose to his Republican opponent by 13 votes. Later, Mr. Cuomo would directly decline to say if he would support Democratic candidates for that legislative chamber, creating much speculation about his ultimate intentions.
In Mr. Espaillat's case, however, he is facing a primary challenge from Assemblyman Guillermo Linares in an extremely Democratic district, so whoever wins on September 13th next week will be sure to win in November.
"I am proud to endorse Senator Adriano Espaillat for re-election based on his strong record of supporting tenants, expanding opportunities for immigrants, and advocating for policies that helped restore New York State's status as the Progressive Capital of America," Mr. Cuomo said in a statement. "Adriano has been an important partner in making New York State's government work for the people again, and we need him to continue serving in the Senate as a strong progressive fighter. I urge voters in the 31st Senatorial District to join me in supporting Adriano Espaillat and sending him back to Albany."
Mr. Cuomo's capitalized phrase, "Progressive Capital of America," is reminiscent of the unusually partisan speech he gave near the Democratic convention in North Carolina this week. While blasting Mitt Romney and defending Democratic philosophy, Mr. Cuomo stood before a sign that read, "New York State: Progressive Capital of the Nation."
The speech spurred increasing speculation that he intends to run in the 2016 Democratic primary for President.