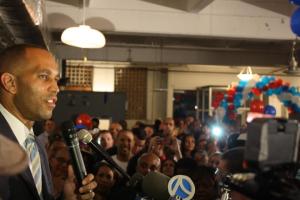 Assemblyman and soon-to-be Congressman Hakeem Jeffries endorsed in a number of candidates the primaries happening on Thursday, including pols supported by the county organization, like Senator Martin Dilan and those opposed to it, such as District Leader Lincoln Restler. However, if there's any race Mr. Jeffries really cares about, it's surely the one to replace him in the State Assembly, where Mr. Jeffries will get a raw test if the political organization that propelled him to a congressional primary win earlier this year can be sustained and work for others.
In that race, Mr. Jeffries formally backed District Leader Walter Mosley, who hails from the same political club as himself, to take his old seat. However, Mr. Mosley has stiff competition in the form of his fellow district leader, Ola Alabi, as well as education advocate Martine Guerrier, in the Fort Greene and Clinton Hill assembly district.
To help boost Mr. Mosley, Mr. Jeffries recorded a robocall urging his current constituents turn out on Mr. Mosley's behalf.
"Hi this is your assemblyman, Hakeem Jeffries, urging you to vote for my good friend and colleague Walter Mosley for the New York State Assembly," Mr. Jeffries says in the call. "During my time in the Legislature, Walter has been a strong partner as we worked together on issues like improving the quality of public education, creating and preserving affordable housing, protecting our seniors and reforming the out-of-control NYPD stop-and-frisk practices."
He adds, "I look forward to representing you in the Congress and it's important that I have a partner like Walter Mosley fighting for us in Albany."
Click below to listen: