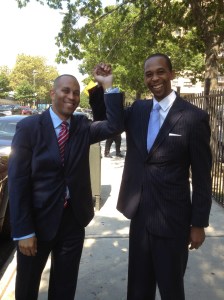 Last Thursday, Walter Mosley was elected to succeed Hakeem Jeffries in Brooklyn's 57th Assembly District. Mr. Mosley was supported by Mr. Jeffries, who left the seat to run a successful congressional campaign, and the race was largely seen as a referendum on Mr. Jeffries' ability to deliver for another candidate in his Central Brooklyn base. Politicker sat down with Mr. Jeffries yesterday to get his post-game analysis on Mr. Mosley's campaign and the endorsements that didn't go their way. Mr. Jeffries also talked about his plans for moving to Washington, his thoughts on the future of the Brooklyn Democratic Party in the wake of the Vito Lopez scandal and discussed ringing the opening bell at NASDAQ on the first anniversary of the Occupy Wall Street protests.
Mr. Jeffries said he was quite happy with the result of Thursday's election, which, according to unofficial results from the Board of Elections, Mr. Mosley won by a margin of about 33 percent over his closest competitor, Ola Alabi.
"We were extremely pleased that Walter Mosley prevailed," said Mr. Jeffries. "He's a great candidate and will continue to provide the people of the 57th Assembly District with the public service that they deserve moving forward. These remain very challenging times. There are a lot of issues that need to be resolved in the State Legislature. I'm confident that Walter Mosley is the right man for the job. I'm very pleased that an overwhelming majority of the public reached that conclusion as well."
Mr. Jeffries' margin of victory in his June congressional race against Councilman Charles Barron was about 42 percent, even bigger than Mr. Mosley's margin last week. We asked whether he thought their respective results indicated a new movement or base coalescing around him in Central Brooklyn.
"I'll leave the term movement to my good friends out in East New York," Mr. Jeffries said referring to Mr. Barron. "Good public service makes for good politics. Over the last six years, I've worked as hard as I can to be the best possible public servant and I'm thankful that it has translated into an ability to generate excitement and support amongst the electorate."
Despite his hesitation to use the word movement, Mr. Jeffries said he believes a "partnership" between himself, Mr. Mosley and Councilwoman Tish James in the area came out of the recent pair of races. Ms. James supported both Mr. Jeffries and Mr. Mosley. Mr. Jeffries said this group will be ideally positioned to address the main challenges facing Central Brooklyn, which he identified as gun violence and the "foreclosure crisis."
"These problems will require intense intervention and relationships that will span city, state and federal offices," said Mr. Jeffries. "One of the wonderful things about this campaign is that the partnership that emerged between Walter, Council member James and myself will translate into our capacity to govern in a way that will improve the quality of life for the people that we serve."
Though Mr. Jeffries is optimistic about new alliances coming from this summer's campaigns, not everyone was on board with him and Mr. Mosley in their races. Notably, DC37, New York's largest municipal public employee union endorsed both Mr. Jeffries' erstwhile opponent, Mr. Barron, and Mr. Mosley's rival, Ms. Alabi. Mr. Jeffries was decidedly not complimentary about the union's picks. He also cited other labor unions who did back him and Mr. Mosley.
"DC37 supported a candidate in June and a candidate in September, those candidates lost by a combined 75 points and I think the results speak for themselves,"  Mr. Jeffries said. "We did receive an extraordinary level of support from labor organizations in June like 1199, 32BJ, CWA and the TWU. In the Assembly race, Walter received tremendous support from the UFT and we are both looking forward to continue our partnership with organized labor moving forward on behalf of working families all across New York City."
Another endorsement that didn't go to Mr. Mosley's was that of The New York Times, which backed Martine Guerrier, who came in a distant third behind Mr. Mosley and Ms. Alabi with just 6.93 percent of the vote in the unofficial results. Mr. Jeffries speculated the Times wanted to support someone unconnected to the political establishment given the recent scandal surrounding the leader of the Brooklyn Democratic Party, Assemblyman Vito Lopez.
"The New York Times is always a critical endorsement. In this particular race, they decided to support a candidate who was the most disconnected from the existing political infrastructure given all that is happening with the State Legislature and the County organization," said Mr. Jeffries. "I can understand the decision of the Times editorial board to support an outsider. In this particular case, Walter Mosley was the best candidate and, not withstanding some of the endorsements that went against him, we were able to convince a significant majority of the people that he would best represent their interests."
Since Mr. Jeffries alluded to the situation with Mr. Lopez, we asked who he believes will be chosen to replace the former party boss.
"It's still too early to speculate, even though the election for next County Leader will take place next Wednesday. There are so many different factors that come into play, particularly some of the results in this past primary election where at least two and possibly more incumbent District Leaders lost," Mr. Jeffries said. "The landscape is still undefined. Frank Seddio is a strong candidate and Karim Camara has been a tremendous legislator who's got the respect of many important institutions all across the State of New York. We'll see what unfolds over the next few days."
Many observers have counted Mr. Camara out of the race due to eligibility rules that bar those who have not served as District Leaders from running for County Leader. Mr. Jeffries said he believes these regulations should be changed "to provide for the selection of the best possible candidate." With the race for County Leader coming up so soon, it seems like a longshot that the rules would be changed in time for Mr. Camara to take the position, but Mr. Jeffries seems to think he has a chance.
"Anything can happen in politics, particularly in Brooklyn," said Mr. Jeffries of the possibility the regulations could be modified in time for Mr. Camara to run for the office.
As far as his own future, Mr. Jeffries is in the process of making arrangements for himself and his family when he has to travel to Washington to serve in the House of Representatives.
"I'm a Brooklynite, will always be a Brooklynite and look forward to aggressively representing the people in Brooklyn and in Queens in the 8th Congressional District. My family will remain here in Brooklyn and I'm going to spend as much time as I can here in the District," he said.
Because he wants to stay in New York as much as possible, aides to Mr. Jeffries told us he was considering sleeping in his House office rather than setting up a more permanent living situation in Washington. However, Mr. Jeffries told us he quickly abandoned that idea once he learned about the conditions in the House office buildings.
"It was a passing thought, but I quickly disabused myself of that notion when one of the current members of Congress who does sleep in his office warned the rest of us to be concerned about the growing rodent infestation problem," said Mr. Jeffries.
In the meantime, before he heads down to D.C., Mr. Jeffries still has plenty keeping him busy here in New York. This morning he rang the opening bell at NASDAQ. Today is the first anniversary of the Occupy Wall Street protests and protesters announced plans to disrupt the markets this morning. Mr. Jeffries wasn't worried about protests disrupting today's opening bell.
"I think the Occupy Wall Street movement was a very fruitful movement as it relates to shining a spotlight on income inequality and economic injustice," he said. "The one year anniversary will appropriately mark a movement that did contribute to an important public policy dialogue in America, but I'm otherwise unconcerned that it will be disruptive in a way that would cast the movement in a negative light."
Indeed, though the financial district was filled with protesters, police and arrests this morning, the markets opened without a hitch.