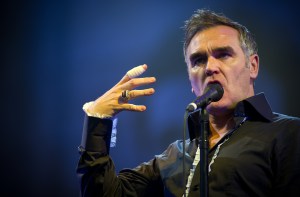 When it comes to former Smiths lead singer Morrissey's attitude towards ailing people nearby, it's gruesome that someone so handsome should care.
Elder statesman of pop Morrissey is known for a certain blithe attitude towards the public–but the more he ignores them, the closer they get, with an elderly woman collapsing near him on Sunday as he visited New York's Strand Bookstore. In this case, the youngest was not the most loved, as Morrissey came to the woman's aid. Per Queerty: "Morrissey, who was there alone, immediately rushed to her side and crouched on the ground to see if she was okay. She had just lost her bearings and was fine."
The unlikely Samaritan was reportedly quite shaken by the incident, leaving the store without purchasing anything (shoplifters of the world, unite!); for his sake, we hope every day is not like Sunday.