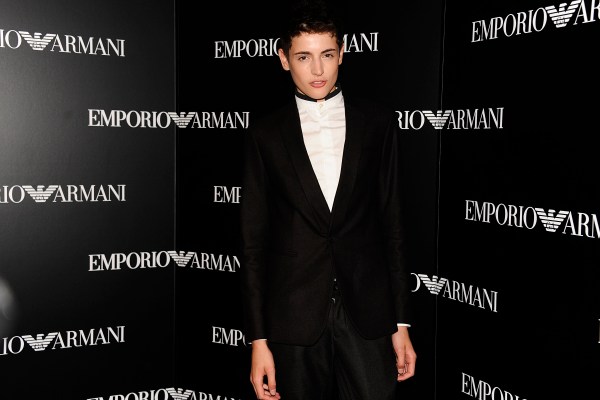 Despite that Harry Brant has barely cleared puberty, the social-buzzing, babygay spawn of model Stephanie Seymour and billionaire media/art/real estate tycoon Peter Brant, has a busy schedule that rivals those of Paris Hilton and Olivier Zahm. This past Friday at Emporio Armani's 601 Madison Avenue boutique opening, we approached the 16-year-old high school sophomore to find why is he out socializing with Roberta Armani, Luigi Tadini, Ms. Hilton, Ricky Martin, Ryan Lochte, artist Rashaad Newsome, Anna dello Russo and Kate Lanphear, when he should probably be cracking those Algebra books.
"What have you been up to today?" we asked.
"I went to Rag & Bone. I liked it," replied Mr. Brant, smiling profoundly.
"What are you doing at Armani?"
"I'm here for the clothes!"
"Are you going to be at any of the parties later? John Varvatos? Jason Wu?" The Observer prodded.
"Um tomorrow is Carine [Roitfeld]'s party," he replied.
"So have you started school?" we questioned, suggesting he should be at home studying.
"Yes, today I went to Rag & Bone and then I went on a field trip to the aquarium with my school."
"How do you balance your social schedule with school?" we asked.
"I mean, I'm pretty much like a modern-day Hannah Montana!" Mr. Brant said.
Does that mean Mr. Brant is living a double life? Is he secretly a world famous pop star? And since when did being a spoiled billionaire socialite boy constitute as a "normal teenage girl?"
Before he could clarify, a chaotic pack led by Cory Kennedy and Ms. Hilton stumbled drunkenly into the fiesta.
The Observer quickly grabbed a few glasses of water and offered them to Ms. Kennedy and her coterie, who more than needed it. Then we were off to rowdier pastures.