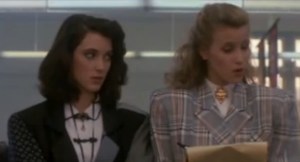 Because it was inevitable that The Real Housewives franchise would start getting younger, The Hollywood Reporter announced today that it is entirely possible that Heathers will be adapted for TV on Bravo.

Okay, here's the rundown:
In the updated take, Heathers picks up 20 years later, with Veronica (Ryder's character) returning home to Sherwood with her teenage daughter, who must contend with the next generation of mean girls: the Ashleys: the daughters of the surviving Heathers.
So really this show should be called Ashleys, not Heathers. This brilliant idea was sold by Sony Pictures to Fox three years ago, after The Big C's Jenny Bicks came up with the concept. And whatever Fox chose to pass over in terms of original programming will eventually be picked up by a subsidiary of NBC. That's just the way the television universe works. Fuck us gently with a chainsaw, right?