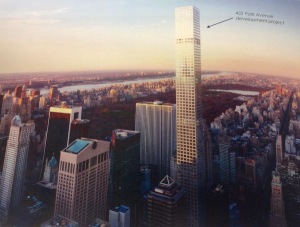 With everyone else tacking on millions to the asks for their apartments, we guess 432 Park Avenue wanted to get in on the action, even if the most soaring of soaring residential towers has yet to break ground. Why should One57 and 15 Central Park West rake in all the cash? Especially when 432 Park Avenue is set to be the tallest residential building in the city at 1,395 feet?
In her weekly luxury market report, Donna Olshan of Donna Olshan Realty writes that sources tell her that the blended average asking price in the building will be about $5,800-a-square foot. Last we heard (when The Wall Street Journal snagged a brochure for the luxury high-rise this June), the average ask was at $4,500-a-square foot. One57 is still more expensive even with the price increase, offering some bargain prices of around $3,500-a-square foot on the lower levels, but charging as much as $13,000-a-sqaure foot for the penthouse (which is currently in contract for somewhere north of $90 million).
Of course, we'd expect some more price adjustments before sales start at the Harry Macklowe/CIM project (although Ms. Olshan said that the building is due to come on the market as soon as this fall!). Even One57, which just recently topped out, scrambled to bump their asking prices up after Sandy Weill sold his 15 CPW penthouse for $88 million last December.
So what kinds of luxuries and amenities can residents at the 117-unit building expect? Designed by Rafael Viñoly with interiors by Deborah Berke, the building is set to offer residents onsite housekeeping, valet parking, a 75-foot pool, a yoga studio, a fitness center, a billiards room, a children's playroom, a screening room, six elevators, a landscaped sculpture garden and a 64-seat private restaurant that opens onto a huge terrace. Also, owners will be able to buy offices below the 34th floor for those who hate to walk/take a Town Car to work.
Not that anyone will be seeing any of these touches anytime soon. The building is not expected to be finished until 2015.
kvelsey@observer.com