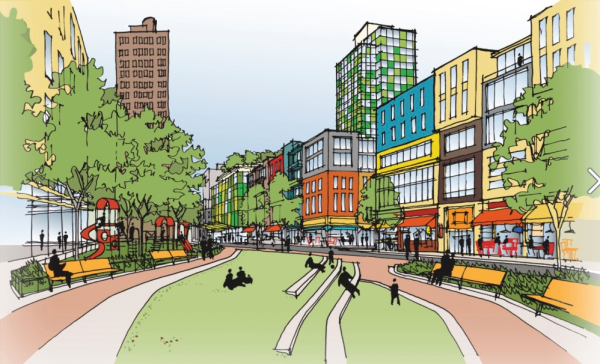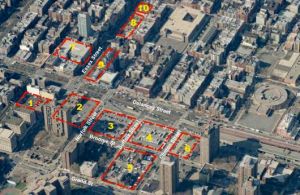 It took 40 years, but the transformation of the Seward Park urban Renewal Area, better known as SPURA, may finally be here. While everyone seemed excited at the prospect of this finally happening, the opinions were far from unanimous about what the city came up with for its plan for the seven undeveloped acres south of Delancy Street on four forlorn parking lots.
But there was unanimity today, when the City Council's land-use committee approved the 1.65 million-square-foot plan for SPURA by a vote of 16-0. Attendees of last week's public hearing on the development south of the Williamsburg Bridge will be relieved to hear that 50 additional affordable housing units (offset by another 50 at market rate prices) have been added to the project, for a total of 1,000 units, half of which will be affordable, half not. The administration also agreed to that now de rigueur piece of rezoning negotiations, a new public school.
"The City has stated that they will give preference to a proposal that provides income bands that are at the lower income level on multiple tiers," local Councilwoman Margaret Chin announced in triumph. "All along there have been a lot of discussions of all the different items but because of the ULURP process, we were able to get it on record and get a firm commitment that this is what will be beneficial to the community, especially to the Lower East Side."
The Bloomberg administration also agreed to to create another affordable housing project off-site, at 21 Spring Street. Other modifications included the creation of a community task force to assist in the selection of developers, with the city agreeing to give preference to local development partners; to minority- and women-owned businesses in the conception and construction of the project; and to local hiring through HireNYC.
The city also made a commitment that if a new Essex Market is built, current tenants would be offered comparable rent and square footage and "reasonable" relocation costs. The administration also "affirmed their commitment in terms of diversity of retail and numbers of storefronts on the site to create more opportunity for small businesses," as language in the rezoning puts it.
Councilwoman Chin's modifications were approved first by three members of Subcommittee on Planning, Dispositions and Concessions, and then by the 16 present members of the Committee on Land Use, many of whom prefaced their "aye" votes with words of congratulation to Ms. Chin. Fellow downtown Councilwoman Rosie Mendez, who worked closely with her colleague on the project, joked, "Let me see, I'm not sure how I'm gonna vote on this."
"I've seen the ongoing perseverance, and that's what it takes," said Councilwoman Sara Gonzalez of Brooklyn. "This is almost a town I think."
The project still awaits approval from the full City Council, but approval by the land-use committee almost certainly guarantees that will happen.