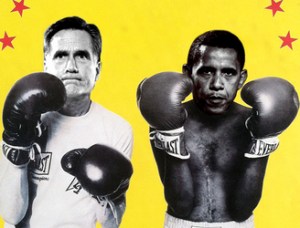 Downtown 4 Democracy, the anti-Tea Party "hipster PAC" is teaming up with Vice magazine to host a watch party for the first presidential debate on October 3 with well-appointed "swag bags" chock full of politically-themed goodies from several big name designers and chefs. The event, which will be held at the Jane Hotel, will also include a DJ set by the "experimental pop duo" Tanlines.
Tickets for the debate party start at $25, but the "swag bag" will only be available to attendees who fork over $250 for "VIP seating." The  gift bag will feature goodies from Opening Ceremony, 3.1 Philip Lim, Rizzoli, Momofuku Milk Bar, The Smile and Neistat Studio along with t-shirts designed by Chrissie Miller, Andrew Kuo, Deer Dana and Curtis Kulig. Guests who opt for the "swag bag" will also receive political buttons made by Elizabeth Peyton and Rirkrit Tiravanija.
Downtown 4 Democracy was founded in 2003 to "organize artists around the Bush/Kerry presidential election." The group has three goals for this year's election; raising "awareness in the creative community," registering voters and raising money "that will go towards unseating a targeted list of Tea Party incumbents who won office in 2010." So far, Downtown 4 Democracy's 2012 events have drawn an eclectic mix of celebrities and liberal wonks including; chef Mario Batali, rapper Mos Def, Girls star Lena Dunham, Deputy Mayor Howard Wolfson and MSNBC host Alex Wagner.
View the full flyer for the Downtown 4 Democracy debate party below. In keeping with the evening's theme, it's a remix of an old gallery advertisement for a show with downtown darlings Andy Warhol and Jean-Michel Basquiat.