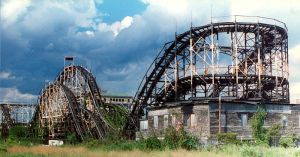 Called "the People's Playground," Coney Island is perhaps the most popular piece of New York City's entertainment puzzle, Times Square and the Bowery having been thoroughly scrubbed of any excitement the past few decades. Chic and refined it's not—at least not yet—but in terms of crowds, ice cream cones, corn dogs and cheap(ish) amusements, this corner of the city is the one calling.
The season may be over, but the enthusiams persists.
Today, the city's Economic Development Corporation announced an RFP seeking the development and operation of new amusement rides, game booths and other entertainment attractions at a vacant site at the heart of the Coney's amusement hub.
The site, located along West 15th Street between the boardwalk and Surf Avenue, formerly home to the famed Thunderbolt roller coaster, is approximately 45 feet wide by 860 feet long; it is nestled neatly between newly expanded Scream Zone—now featuring a go-cart track and the Boardwalk Flight sky-coaster alongside its four rides for the thrill-seekers among us—and the soon to be Steeplechase Plaza, a 2.2-acre space that will house the restored B&B Carousel, Coney Island's last remaining historic carousel.
Seth W. Pinsky, President of NYCEDC, commented, "The activation of the West 15th Street site will further expand the amusement core, and build on the ongoing revitalization taking place in Coney Island." It will also continue the revitalization that the opening of Scream Zone and Luna Park has prompted over the past three years.
"America's Favorite Playground," as Brooklyn Borough President Marty Markowitz called it, is a major attraction; the summer of 2011, was one of its most successful seasons to date, with over 640,000 visitors taking over 2 million rides.
"The launch of this site will further propel Coney Island as New York's premier tourist destination," said Domenic M. Recchia Jr., councilman for Coney Island and City Council finance chair. Ms. Markowitz concurred: "Its redevelopment will mean even more places to see and more things to do at Coney Island."
The Coney Island Revitalization Plan will both preserve and nurture this affluent amusement area; it will open up retail opportunities for its neighborhood, with nearly 5,000 new units of housing, and it will generate more than 25,000 construction jobs and 6,000 permanent ones. The plan is expected to generate more than $14 billion in economic activity for New York City over 30 years.
The cards are on the table; we just have to wait for Oct. 23 to see them.