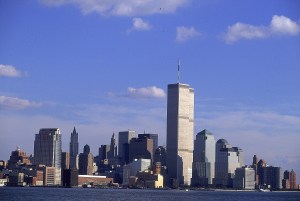 Mitt Romney's investments have already proven to be obstacles for him on the campaign trail with a slew of attacks on the company he co-founded, Bain Capital, and his vast network of offshore assets. However, this latest bit of information about Mr. Romney's business dealings may be the most politically problematic yet: almost immediately after the September 11th, Mr. Romney profited from a company designed to make money from the chaos that followed the attacks.
Endurance Specialty Holdings was one of many insurance and reinsurance startups that cropped up in the wake of 9/11. These companies were designed to purchase debt from insurance companies who faced billions of dollars in claims after the attacks and sold insurance at high prices generated by the soaring rates that resulted from the cash crunch on traditional insurance companies. Mr. Romney was invested in Endurance Specialty Holdings both through Golden Gate Capital, a private equity firm founded by a former Bain Capital executive in 2000 and through his direct interest in another investment firm, CCG Investment Fund, LP.
In documents filed with the SEC ahead of a proposed IPO in late 2002, Endurance Specialty Holdings, which began operations in December 2001, a little over three months after the World Trade Center attacks, boasted about how they were taking advantage of economic opportunities created in the wake of September 11th.
"Current conditions in the global insurance and reinsurance markets present an attractive opportunity for us to deploy our capital. Many global property and casualty insurers and reinsurers are currently experiencing significantly reduced capital resulting from several years of excessively competitive pricing, expanding coverage terms, significant increases in LOSSES from asbestos liability, under-reserving, poor investment performance and losses from the World Trade Center tragedy. This reduction in capacity has resulted in considerable increases in pricing and in terms and conditions that are significantly more favorable for insurers and reinsurers," the company's SEC filing said.
The company's filing also described just how large the insurance industry's 9/11-related losses were.
"The events of September 11, 2001 altered the insurance and reinsurance market landscape dramatically. While the full impact of the losses related to these events is still unknown, a wide range of industry experts estimate ultimate losses at approximately $40 billion," it said.
Endurance's strategy clearly worked. In its first month of operations, Endurance Specialty Holdings and its various subsidiaries produced approximately $300,000 in net income. Over the next nine months, the company generated a net income of $63.5 million. By the end of 2003, the company was reporting net income of $263.4 million.
Mr. Romney was described as a "limited partner" in Golden Gate Capital, which was one of the 13 initial investors in Endurance Specialty Holdings when it began operating in late 2001. In his annual financial disclosures filed with the Massachusetts Ethics Commission for 2001, Mr. Romney noted he had an investment in a "managed investment fund" called CCG Investments BVI, LP. That company also held stock in Endurance Specialty Holdings. The exact value of Mr. Romney's investment in CCG Investments BVI, LP was not revealed as part of his financial disclosures, however, the fund required a minimum investment of $500,000. Based on his presidential campaign financial disclosures, Mr. Romney's trusts controlled between $2,080,010 and $4,300,000 in Golden Gate Capital funds as of last August. The disclosure claimed Mr. Romney could not provide the precise worth of his holdings in Golden Gate Capital and CCG because management at both companies said they could not provide information about the value of their "underlying holdings" because that information was "confidential and proprietary."
In addition to Endurance's history of profiting from the September 11th attacks, Mr. Romney's investment in the company is also interesting because the company was domiciled in Bermuda, though none of its initial investors hailed from the island nation and ten of them came from the United States. In SEC filings, Endurance noted this arrangement ensured it was not "subject to taxes computed on profits or income or computed on any capital asset, gain or appreciation, or any tax in the nature of estate duty or inheritance tax or to any foreign exchange controls." Throughout this election, the Obama campaign has accused Mr. Romney of using similar offshore investment schemes to avoid paying U.S. taxes.
Politicker reached out to the Romney campaign to see whether he was aware of these aspects of Endurance Holdings in subsidiaries and whether he felt his investment in the company was appropriate. As of this writing, we have yet to receive a response.
Update (9/12 3:04 p.m.): Romney campaign spokeswoman Michele Davis responded to Politicker with a statement saying Mr. Romney and his family do not have direct control of their investments. 
"Governor and Mrs. Romney's assets are managed on a blind basis. They do not control the investment of these assets, the investment decisions are made by a trustee," Ms. Davis said.