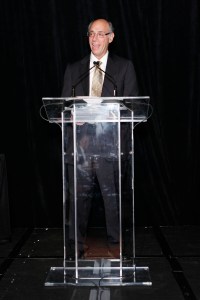 More than 100 photographs from the collection of New York dealer Howard Greenberg are heading to Europe for stops at two museums over the next eight months. The first stop for the works will be the Musée de l'Elysée Lausanne, in Switzerland, from Sept. 21, 2012, to Jan. 6, 2013. Nine days later, the exhibition will open at the Foundation Henri Cartier-Bresson, in Paris, and run through April 28.
Mr. Greenberg's trove of work includes some 500 images by a wide range of photographers, including Ralph Eugene Meatyard, Bruce Davidson, Weegee, Edward Steichen and André Kértész.
Steidl will publish a catalogue to accompany the exhibition with an interview between Mr. Greenberg and Sam Stourdzé, the director of the Musée de l'Elysée.
In other news about Mr. Greenberg, his gallery, which is located in the Fuller Building on East 57th Street, just opened a Gordon Parks centennial exhibition today. That show runs through Oct. 27.