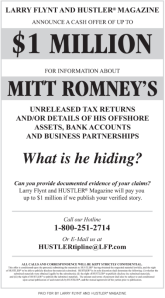 That irrepressible scamp Larry Flynt is at it again and this time his target is Republican presidential nominee Mitt Romney. CNN reports that Mr. Flynt, chief porn viewer and publisher of infamous skin mag Hustler, will pay $1 million for access to "documented evidence concerning" Mr. Romney's withheld tax returns–or even better, documents about the former Massachusetts governor's "offshore assets, bank accounts and business partnerships."
Hustler will officially advertise the offer in full-page ads slated for publication in the Sunday Washington Post and the Tuesday edition of USA Today. The ads ask "what is [Romney] hiding?" and promise to "publish your verified story" in addition to the $1 million. 
Mr. Flynt's offer may be a response to anonymous hackers who claim they managed to lift the GOP candidate's past returns from servers in the Tennessee offices of Mr. Romney's accountants.
The hackers are demanding the equivalent of $1 million U.S. dollars in Bitcoins, a kind of "virtual commodity" that allows users to trade currency in relative privacy, supposedly away from the prying eyes of banks or the authorities.
If the hackers do indeed have what Mr. Flynt seeks, hopefully he will figure out how to turn dollars into Bitcoin before September 28, which is the date the hackers say they will release the returns into the wild.