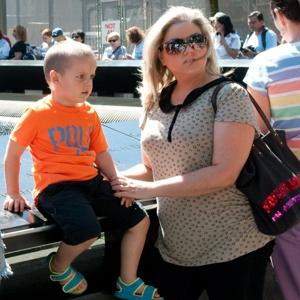 People are enjoying themselves at the 9/11 Memorial and the Post (as always) is mortified.
They're treating it like a national playground.

At the National September 11th Memorial, tourists balance coffee cups and soda bottles on the parapets bearing the names of the dead.

Parents hoist their children to sit on the bronze plaques, while other visitors splash water from the two waterfalls onto their faces to cool themselves on a hot summer day.

On the plaza, tourists break out lunch foods and lie on their backs.
While The Observer agrees spilling drinks, scratching and sitting on the great bronze fountains is indeed disrespectful, even deplorable behavior, bemoaning the picnics is going too far. When the World Trade Center site is eventually finished (assuming it ever will be), there will be a brand new eight-acre park in the heart of downtown—a place, like so much of Manhattan, that is starved for open space. It is a destination to rival Bryant Park or Union Square.
The centerpiece of this space will be the memorial. It deserves all due deference, but it should not be treated as a cemetery. Thousands of bodies may be interred on these 16 acres, but just as children frolic on the National Mall, the Vietnam and Korean war memorials are no worse off for it. The same goes for the 9/11 Memorial.
The Post bemoans the lines, praises new security guards cracking down on untoward behavior, even throws around the dreaded d-word: "Disney." But heaven forbid the site should feel any more like a prison than is already anticipated. When the construction barriers finally come down, the lines will be gone, people will come and go as they please. They will pray and they will play, and that is how it should be.
No one is complaining about the return of commerce to the site, at least no longer. Instead, the concern is getting those towers off the ground and occupied. The same should go for the memorial. It is a place for reverence and remembrance, but also to enjoy the weather and the company of our fellow Americans. To entomb the site would be to doom it. As so many scaremongers like to declare, if we let that happen, then the terrorists will have won.