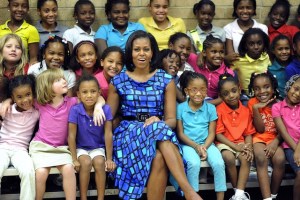 Word has gotten out from publicists and fashion news authority Women's Wear Daily that first lady Michelle Obama has endorsed yet another one of Barbara Tfank's ladylike designs for a heavily monitored public appearance. It is said to be the fifth time that the first lady has donned a Barbara Tfank frock. She wore the ravishing outfit at a meet-and-greet in Gainesville, Fla., for a young girls' after-school program called Girls' Place on September 17.
"A friend, who Tfank had shown the unusual fabric to, spotted the dress on C-SPAN and called the designer to tell her the news," reported WWD.
According to our perhaps inaccurate tally, this means that Ms. Obama has worn Tfank to more public appearances than any other high-end American fashion designer, which leads us to ask: Is Barbara Tfank Ms. Obama's new designer of choice? Has Ms. Tfank overtaken the feminine and playful aesthetic of Jason Wu?
With the election fast approaching, this would come as no surprise. Back in February, during New York fashion week, Ms. Tfank told The Observer, "It really interests me that the people who gravitate towards my clothes … they're women that are communicators—they have very strong opinions. I think that my clothes allow for women to show themselves, their power."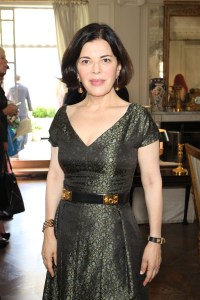 While Ms. Tfank would not comment specifically on her working relationship with the first lady, respecting her privacy, she did tell The Observer in an email today that "she represents all that is good about America.  Her inherent luminosity and warm personality can only enhance the quality of any designer's work."
The cerulean, marine and sky-blue mosaic print dress was reported to have been made of vintage fabric from Bianchini-Férier and is silk twill, according to WWD. The newspaper stated that the print fabric was created by artist Raoul Dufy and that Ms. Tfank had purchased the material at auction.
"I am honored that she chooses to wear my designs," Ms. Tfank concluded in her email.
We'll have to wait and see what else comes from this dynamic design duo. Best keep your eyes on the red-white-and-blue podiums.