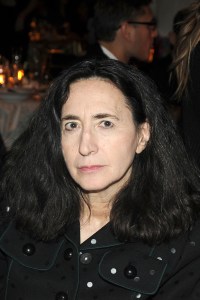 It's all over. Fashion Week is back in the closet until spring. As this year's cast of models kicked off their heels and moved on with a shrug of their padded shoulders, there was at least one place where the flame of fashion still flickered: The Museum at FIT. Ivy Style, their latest exhibition, presents an entertaining panorama of college clothing, from rakish raccoon coat to basic Brooks Brothers blazer.
Every preppy should know the classic Fitzgerald line about Gatsby's "gorgeous pink rag of a suit"; visitors to the FIT exhibit will see emblazoned on the wall a quote from his first novel, This Side of Paradise, less well known but equally unforgettable: "Is your underwear purple too?" Literature can provide the fashion addict with her fashion fix: As New York Review of Books contributor, and fervent fashion writer, Anne Hollander put it, "literature has always been the handmaiden of fashion."
With our plaid in check, The Observer checked in with a cross-section of the city's fashion writers and novelists to talk about the ways in which literature—that quintessentially private pursuit—collaborates, clashes and collides with the very public spectacle of fashion. 
Francine Prose, a perennial Fashion week attendee—often there to support good friend and Marc Jacobs CEO Robert Duffy—is not alone in believing that fashion is a fine lens through which to view culture and identity; she and fellow novelist Emma Straub were in agreement that clothes provided a "shorthand" in letting the reader know about a character. Patricia Mears, curator of Ivy Style and deputy director of the museum at FIT, suggested that because writers are "looking for something tactile," clothes that describe social classes and categories are key. Ms. Hollander elaborated, "They're a way to signal or signify who you are or who you wish you were."
Ms. Prose, however, has excised from her pages all brand names, arguing that they "will cease to have meaning in 20 years." She added, "it's one thing to describe what a character is wearing, but to say that he or she is simply wearing Prada is too easy a short cut."
Used with moderation, then, fashion provides clues to characters' social lives and moral make-up. But Ms. Hollander claims to have found an exception: Benjamin Constant's Adolphe, a classic French novel published in 1816, "doesn't include one single material object of any kind … there are no descriptions of clothes in it, nor of chairs or tables for that matter." Ignoring fashion dos and don'ts, Constant tells his story through the sparring of his characters.
For a biographer such as Stacy Schiff, the challenge is to read clues in her subjects' sartorial choices. "What does it say about a person if he appears in the streets of Paris with a backwoods, marten fur hat (Ben Franklin), if she dresses her American child in lederhosen (Vera Nabokov), or lights up a Cornell classroom with a profusion of pastels (Vladimir Nabokov)?  How does Cleopatra dress if she is going to convince her subjects she is the incarnation of the goddess Isis?"
Clothes and gender is a rich topic in both literary and fashion circles. The most famous initials in fashion may be LBD, but at Ivy Style it was all about OCBD: oxford cotton button-down, the preppy standard. Ms. Hollander said, "Women are the main point in clothes but of course there's the whole masculine fashion world, too," and the exhibition proved her point. G. Bruce Boyer, who's been fashion editor at Town & Country, GQ and Esquire, and who consulted on the exhibition, admitted, "I can't write about women's fashion—I'm just like every other guy—with women's fashion I just know what I like when I see it."
Ms. Schiff never hesitates to tackle men's fashion in her biographies. She recalled, "I can't tell you how much time I spent on Franklin's fur hat; was it an accident—he had eczema, was cold, and had just returned from a Canadian expedition—or did he don that hat because he knew precisely how it would read in the fashionable salons of Paris?  He was in any case the worst-dressed ambassador at Versailles, even when he attempted not to be."
Fashion is fickle: Franklin's hat would've been all the rage on campus, circa 1920. Literature has its fads too, but it helps make fashion less ephemeral by putting it into context, historically, sociologically and psychologically. Ms. Prose pointed out that if you go to shows at the Met, Prada for example, or Schiaparelli, or Chanel, you're paying homage to iconic designers, as much classics as F. Scott Fitzgerald.
Ms. Prose invoked another literary giant, Henry James: "At every dinner party he went to, he either saw or heard something that he thought fit to turn into a novel." She remarked that writers have to be attentive to what people wear on the streets; it's like actors watching people's gestures and how they're dressed: They have to think about how a character is revealed through timing and how they walk. And designers think this way too; with fashion, there's a dialogue between what happens on the runway and the street.
And according to Ms. Prose, there's a way to read high fashion: "You learn to translate what you're seeing on the runway into something quite different in everyday life—because people won't be walking down Fifth Avenue with totally backless clothing."
For the working writer, like the working New Yorker, high fashion is a world apart. But writing and everyday fashion remain as intimately intertwined as the preppy and his penny loafers. Ms. Straub observed, "it's sort of the same, except writing is less glamorous." And she's okay with that: "I don't do very well in heels."
editorial@observer.com