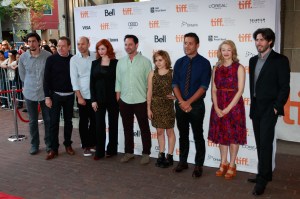 Last night, Jason Reitman took it upon himself to prove Natasha Vargas-Cooper wrong about the timeliness of Alan Ball's 1999 script, American Beauty. Apparently it doesn't have to feel like a rehashed bowl of nostalgic bullshit–as the Up in the Air director proved at the Toronto Film Festival when he got a new and improved cast to breathe life into stale material during a live read.

This was the rundown, according to comedian Paul Scheer:
Last night I got to to perform in Jason Reitman's Live read of American Beauty at the Toronto Film Fest with

Bryan Cranston as Lester Burnham

Christina Hendricks as Carolyn Burnham

Mae Whitman as Jane Burnham

Adam Driver as Ricky Fitts

Sarah Gadon as Angela Hayes

Nick Kroll as Col. Frank Fitts

Me as Buddy, The Real Estate King

George Stromboulous as Brad

It was awesome.
Oh jeez. You had us at "Adam Driver as Ricky Fitts." Actually wait. You had us at "Walter White as Lester Burnham, married to Joan from Mad Men."
We actually can't tell if casting Nick Kroll as Chris Cooper's repressed, tyrannical Col. Frank Fitts was the one misfire in the show, or just a way for Mr. Reitman to shrug at the audience for the heavy-handed nature of a character he couldn't control.
In case you wanted to know what all this ended up sounding like:
We bet James Franco–who was definitely in Toronto yesterday–is so mad at Jason Reitman for not letting him play all the characters and direct and rewrite American Beauty. He was going to turn that videotape of a bag blowing in the wind into a two-hour loop of video and call it a day. It's just not fair!