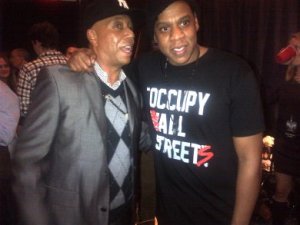 It was bound to happen: Jay-Z's comments about Occupy Wall Street in the recent T Magazine profile of the rapper/entrepreneur (written by novelist Zadie Smith),  found their way to the Occupy movement itself. And as they were no doubt going to do, they've stirred up a bit of a media tempest.
WHAT STARTED THIS
The profile, titled "The House That Hova Built"—released online September 6, and in print September 9—really started seeing pickup today for this particular line:
He gets a little agitated when the subject of Zuccotti Park comes up: "What's the thing on the wall, what are you fighting for?" He says he told Russell Simmons, the rap mogul, the same: "I'm not going to a park and picnic, I have no idea what to do, I don't know what the fight is about. What do we want, do you know?"

Jay-Z likes clarity: "I think all those things need to really declare themselves a bit more clearly. Because when you just say that 'the 1 percent is that,' that's not true. Yeah, the 1 percent that's robbing people, and deceiving people, these fixed mortgages and all these things, and then taking their home away from them, that's criminal, that's bad. Not being an entrepreneur. This is free enterprise. This is what America is built on."
Jay-Z's certainly not the first person to criticize the Occupy movement for a perceived lack of direction, but he may be its most famous.
THE RESPONSE
One Occupier has since responded in kind by planning a protest (or "teach-in") outside of his upcoming concerts at the Barclays Center in Brooklyn:
On SEPTEMBER 28th we will arrive at his sold-out Barclays concert to lovingly show Jay-Z what we want and how he can help: by encouraging his fans to take action for social justice in their communities, schools, workplaces, and homes.

Join us September 28 at Barclays at 6pm for an Occupy Wall Street teach-in and musical performance. Let's be a sincere answer to Jay's question. In turn we will ask one of him, one Florence Reece wrote in the 1930s and still matters now, "Which Side Are You On?"
THE MIDDLEMAN
Meanwhile, Def Jam Records founder Russell Simmons—who was responsible for bringing Kanye West down to Zuccotti Park last year—published a blog post regarding Jay-Z's comments, in which he both defends the rapper and takes him to task for not knowing better:
Jay-Z's words matter. He was honest enough to say that he didn't understand it. A lot of Americans don't. He was also honest enough to recognize that there are some in the 1 percent who "deceiving" and "robbing," so I know in his heart he gets it. I know he is a compassionate person who cares about the poor, so I'm certain if I had two more minutes with him, I could change his mind.
PRECEDENT
Previously, Michael Skolnik—who is the editor-in-chief of Simmons's site, GlobalGrind—published a post about Jay-Z and Occupy Wall Street last November, when the rapper caused a ruckus by debuting a shirt after a Madison Square Garden concert that read "OCCUPY ALL STREETS."
The shirt, sold by Jay-Z's Roc-a-Wear apparel line, was controversial on its debut, as the company explained that it wouldn't be donating profits to the movement that ostensibly inspired the design. Back then, Skolnik and GlobalGrind decried any controversy over the shirt, noting the "factious [sic] media" who had, in his mind, drummed up controversy over nothing, and urged readers not to look too far into the shirt:
The corporate-controlled media is so thirsty for the blood of the celebrities that they try to find silly and frivolous things to separate great messengers from the people. The media, and I am not just talking about the right wing media, needs to give up on this divisive style of journalism and start to support the 99%. You can own your old-school corner of the media, but you cannot own our future. We are sick and tired of the media treating the Occupy Wall Street movement like it is some rag-tag group of hippies who are camped out in a park. This movement has grown so quickly and so widely that it has inspired heroes of ours, like Jay-Z, to spread the message for us.
It would appear, in retrospect, that Jay-Z was never too "up" on the message.
[Ed.: All of this goes without mentioning the fact, of course, that he's an investor in a basketball team playing at a stadium named for one of the largest financial institutions in the world, Barclays Bank.]
What happens now? Well …
CONCLUSION
1. Occupy will have its musical protest outside the Jay-Z concert. They will likely not come up with anything as good as previous Jay-Z protesters, but here's hoping.
2. It will receive some degree of press coverage, but likely not too much (though more if the protesters are manhandled by security or cops).
3. Jay-Z will make a canny reference about the entire thing in a song.
4. Somewhere down the road, someone will have another opportunity to ask Jay-Z about this entire incident in a future magazine profile.
5. Repeat.
Further Reading:
Shocker: Jay-Z Officially Doesn't Care About OWS [ANIMAL New York]
Jay-Z Says He Didn't Understand Occupy, but That Didn't Stop Him From Profiting Off It With T-Shirts [Gawker]
fkamer@observer.com | @weareyourfek