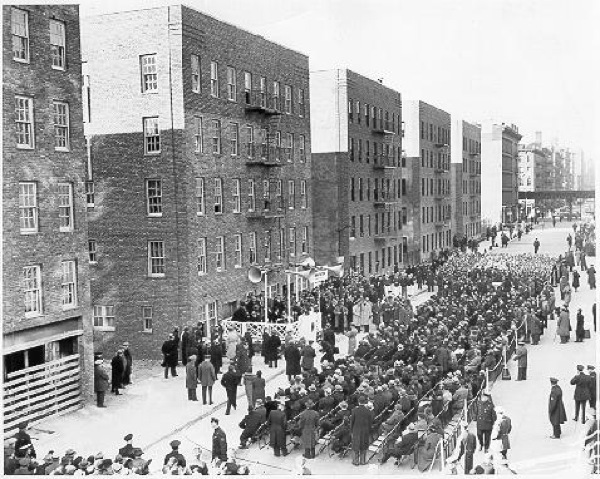 On December 3, 1935, Roosevelt, LaGuardia, Moses, Congressman Robert F. Wagner and what seemed like half the city crammed onto the corner of First Avenue and East Third Street to open First Houses. Thus began an era of American progress, a social experiment,  affordable housing for all, or at least those fortunate enough to win the housing lottery.
Before long, LaGuardia and his New Deal pals were on 105th Street for the East River Houses, and in Williamsburg, Red Hook, Queensbridge, ceremonial silver shovels in hand, breaking ground on dozens of new housing projects. By 1939, the mayor was regularly traveling around the country, advising cities like Newark, Providence and Philadelphia on how to follow suit. As important as affordable housing was, the construction was as much a jobs program as anything, a salve to the Depression. "In so many instances, it was a pioneering program," said Ingrid Gould Ellen, long-time director of NYU's Furman Center for Real Estate and Urban Policy.
The Great Migration, the Great Society and white flight, aided by discriminatory practices in the real estate industry, conspired to leave NYCHA's developments with largely minority and lower-income tenants, rather than the economic mix that had been hoped for. Still, the projects gave birth to everyone from Lloyd Blankfein (Linden Houses, East New York) to Jay-Z (Marcy Houses, Bed-Stuy) and Sonia Sotomayor (Bronxdale Houses, Morisania, since renamed in her honor). Mr. Rhea's goal, he said, "is to ensure that NYCHA can still foster these kinds of success stories."
Like so many government programs from the era, the carefully planned social engineering did not always pan out. As Robert Caro and so many others have detailed, the new housing projects erased entire communities along the way. The new homes may have been affordable and modern, but they were not exactly inviting—especially as the technology progressed and the towers grew taller, more ominous and more dense.
Yet still they stand. NYCHA's current repair bill systemwide tops $6 billion, and is expected to balloon to $14 billion in the next three years, many times the roughly $270 million NYCHA receives a year for capital expenditures.
One housing official marveled that some 10-year-old, privately developed low-income apartmentsare actually in worse shape than many 60-year-old public housing complexes. NYCHA, even with its massive portfolio, is held to a higher, perhaps impossible, standard. "Even in a perfect world, NYCHA would still have its problems," said Julia Vitullo-Martin, director of the Center for Urban Innovation at the Regional Plan Association.
Starting in the Reagan era, federal funding, which makes up the vast majority of NYCHA's non-rental income, began to diminish. Even during the Clinton administration, with welfare reform a national issue (and Andrew Cuomo running HUD), funding waned and talk of privatization was rampant. The situation deteriorated drastically during the Bush years, with federal funds falling to 69 cents on the dollar. NYCHA enjoyed full funding in President Obama's first year in office, as well as $424 million in stimulus funds—the largest public housing grant awarded in the country. Since then, it has fallen by the wayside due to Congressional intransigence and presidential ambivalence.
"Obama has been hostile to public housing, which surprised a lot of people, since he came up working in it," said John Arena, a professor at the College of Staten Island and housing expert.
"It is time for New York to realize we have to fight for what is ours, but we also have to be able to stand alone," Mr. Rhea said. "We have too much at stake to rely on anyone but ourselves to make do."