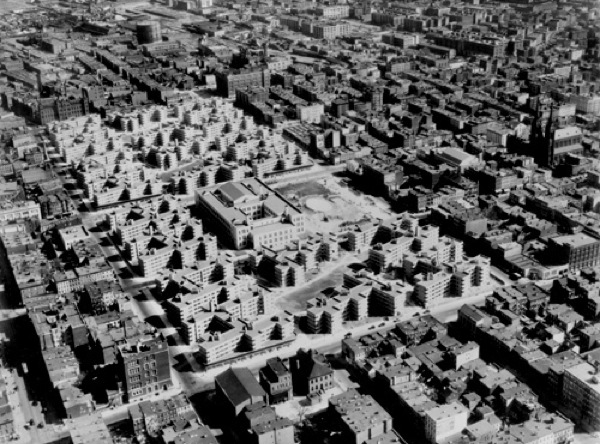 Two thousand, six hundred apartment buildings—2,597 to be exact, built in neat little clusters in almost every corner of the city over the course of six decades. From a plane, or Google Maps, they are plainly visible from above, shocks of green and brown, big gaps in the city's otherwise uniform street grid. They are pinwheels, crosses, long slabs of concrete and brick lined up like dominoes.
Such projects were once sprouting up across the country, but more and more, New York stands alone. In Chicago, Mayor Richard Daley demolished one notorious housing project after another, from Cabrini Green to Robert Taylor, names synonymous with urban blight and bureaucratic failure. He replaced them with new developments that lined the pockets of connected developers but housed half as many residents. In Atlanta, Philadelphia, St. Louis, Newark, New Orleans, the story has been the same.
"It's a battle that's still being fought here in New York, whereas it's been given up in most every other big city," said Victor Bach, a senior housing analyst at Community Services Society of New York.
Mayor Bloomberg is typically viewed as out of touch with the needy. After all, he called the city's homeless shelters "pleasurable" last month. Nonetheless, he has done more for public housing than almost any other mayor in the country. He has invested more than $100 million into the housing authority and spent political resources on NYCHA when necessary, including drafting John Rhea to run the agency. Granted, his predecessors still received ample federal funding and could basically ignore the housing authority.
Mr. Rhea's job is not unlike that of other outsiders recruited by the mayor. "NYCHA needed a change agent, and I think I have experience in being an insurgent—you know, going into an organization to make substantial change happen," he said. "I also didn't come with a set of preconceived notions about what was right or wrong structurally or strategically at NYCHA."
Mr. Rhea grew up in inner-city Detroit, in a mixed-income neighborhood where he walked by housing projects and rundown homes on a regular basis. His father ran his own office furniture supply business, his mother was a medical technician He came east for school, attending the honors program at Wesleyan, where he majored in social studies. While attending Harvard Business School, he became friends with Barack Obama, who was then at the law school. He then went to work for the Boston Consulting Group in Chicago for three years, where the two remained friendly. He hosted the future president's first fund-raiser in New York.
Mr. Rhea came to the city to work at JPMorgan Chase, where he arranged more than $50 billion in deals, and then went to Lehman Brothers, where he rose through the ranks to become head of global consumer retail group. He sees himself as a business facilitator, rather than a money-maker (though there was plenty of that too). It was this skill that attracted the Bloomberg administration, along with his management experience at both firms.
When Lehman collapsed, Mr. Rhea found himself with a job at Barclays when it bought up Lehman's investment banking division. But he had long felt called to public service, and the moment seemed right. He considered heading to Washington, but when word got out he was in the market for a public-sector position, the Bloomberg administration approached him first.
He said that the banking crisis played no role in his decision to leave Wall Street, and someday he could even go back.
"Rightly or wrongly, I didn't personally feel guilt. I wasn't a real estate banker, I didn't put together complicated derivatives, I didn't sell subprime mortgages, I didn't have any role at all in housing," Mr. Rhea explained. "As an American, watching the financial debacle that had many culprits—the financial industry being one, but government policy being another, and just excess, sheer excess in the economy—I didn't feel guilt but I certainly felt responsibility. I don't know how any American can watch what we went through and not feel some level of concern for the fellow citizens who were truly impacted."