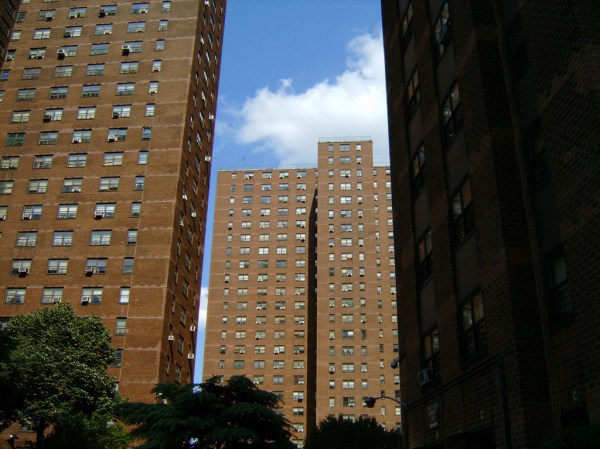 Mr. Rhea's financial experience experience has come in handy at the cash-strapped NYCHA. "Washington has been very clear in saying that there are $30 billion of unmet capital needs for public housing nationally and it doesn't have the capacity to fund them," Mr. Rhea said. "Therefore, housing authorities have to think about other ways of availing themselves if they want to maintain their buildings—other ways of attracting capital, and having conversations with residents and advocates about those options, and how we pursue them and what the risks are."
One of the first projects Mr. Rhea tackled was creating an office of public-private partnerships, a controversial move. Public housing, the bedrock of the so-called safety net in New York, is considered sacrosanct in advocacy circles. Any private involvement, it is feared, will poison the well. How long until everything has been sold off?
Mr. Rhea insists the housing advocates have nothing to fear, and if they are serious about rebuilding NYCHA, they will have to be creative. When an idea was floated internally to possibly put billboards on some of the housing project's towers, it was exposed in the Daily News and quickly shot down. The outcry was understandable, but what if it meant a new security system or money to reopen a community center or fix up a basketball court?
"What I find incredibly amazing is that the press can say NYCHA isn't doing anything," Mr. Rhea said. He said he has proposed "some of the most intransigent, kind of radioactive" ideas, about which NYCHA has been totally upfront. "We've put them out there, we've said, 'Here's what we plan to do about them,' we're fully transparent about it, and we're willing to have a conversation about what are the implications of what's being proposed."
Mr. Rhea's most impressive victory was the federalizationof thousands of units that had been cast off in the previous decade by the city and state. Completed at the end of 2009, it was a reminder that Washington was not the only political culprit. In the late 1990s, Gov. George Pataki offloaded some 21,000 units of public housing the state had built and maintained for decades. The city pulled the same trick in 2002 with a number of developments it controlled, following a devastating blow to the budget as a result of 9/11.
The vast majority of these units had no federal support, thousands of apartments drawing against the rest of NYCHA's funds. Through a deal with HUD, federal matching funds, however insufficient, are now provided for the entire NYCHA portfolio. The federalization deal also brought in an injection of $400 million in public and private financing, a never-before-attempted partnership meant to modernize many of the most dilapidated developments. "Standing up at the podium with the secretary of HUD and the mayor, the federalization deal being announced and knowing what that meant, that was a huge victory," Mr. Rhea said. "It shows we can get things done."