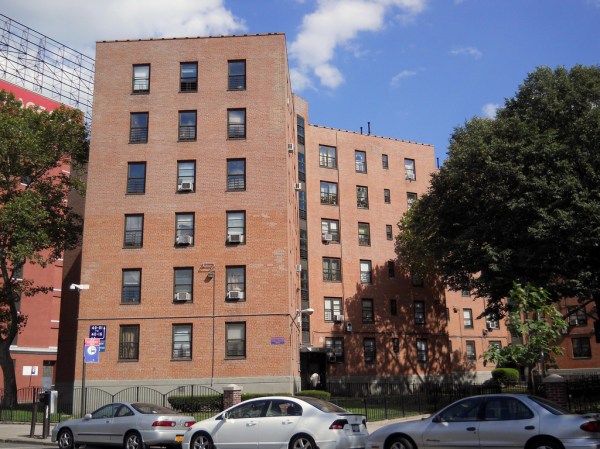 Still, Mr. Rhea's job has been far from easy. Another of his marquee achievements is Plan NYCHA, essentially a strategy outline subtitled "A Roadmap for Preservation." At 45 pages, it took more than two years to create, drawing lukewarm reviews when it came out in 2011.
"It's a scrapbook," remarked Mr. Bach. "It mentions some important policies, but it doesn't go into them at all. It devotes most of its space to pictures of resident participation."
Mr. Rhea defends it as more of a vision statement than a detailed blueprint. "You can't give people the thousands and thousands of pages of research and documentation that we've done and expect them to digest it," he said. "This allows people to help us guide individual projects moving forward."
The same goes for the Boston Consulting Group report commissioned by the chairman that has led to some of the harshest media attention on the authority in memory. Begun in March 2011, the report was due to be completed the following September at a cost of $5 million. The study was extended through the following April, and the price tag doubled. In part, this speaks to the complexity of NYCHA—it takes 12,000 employees to manage that city of half a million—but also to a lack of political awareness on the part of Mr. Rhea.BCG is known for its experience in advising government agencies, but it also happens to be where the chairman worked after business school. The Daily News got wind of the report in June and began to demanding its public release. Mr. Rhea demurred.
"If he had public-sector experience, John would have known the report was going to get out, whether or not he wanted it to," said one City Hall housing expert. "He's focused on the product, not the politics, and that has its perils."
Smelling blood, the paper began digging around in the authority and came up with a damaging story. NYCHA had, in the words of the tab, been "sitting on" nearly $1 billion in federal money dating back to 2009.
As bad as that sounded, it was not exactly accurate. In fact, 90 percent of the $950 million had been allocated already, and while $485 million had yet to be spent, that was not unusual. Between appropriations, requests for proposals, and approvals at nearly a dozen different agencies in Washington and New York, it can take up to three years for HUD funds to make their way from Capitol Hill to the streets of Canarsie or Kingsbridge. Furthermore, $540 million the News was complaining about had only been announced in the past six months to a year. Never mind that those numbers had been provided directly to the paper by NYCHA's public affairs office as a sign of progress.
"That kind of lack of detail leaves a reader with the impression that if you're Mrs. Smith and your ceiling is falling in, that NYCHA's not going to do what it's supposed to do, when it has all of the resources it needs to do that," Mr. Rhea complained. "When you don't say you need 6 billion, and you only have a billion, you leave out the fact that even if we snapped our fingers tomorrow and spent it all in the most efficient way, you still have five out of six people still upset about the quality of their conditions."
To make matters worse, the tab ran accompanying pieces showing apartments full of black mold and rat holes. As bad as that is, the argument was disingenuous. Small repairs come out of the operations budget, while the billion dollars at issue was in capital funds. It is the difference between fixing a leaky ceiling and repointing the bricks in an entire complex to protect against weather damage. Not that NYCHA could rob from capital funds to pay for regular maintenance anyway. It is forbidden to dip into one pot to fund the other, and doing so could actually lead to serious sanction in Washington. A number of council members had to hold a hearing on the steps of City Hall to praise Mr. Rhea, fearing the negative publicity would imperil NYCHA. "That is my gravest concern, the message this will send to Washington," Ms. Mendez said. "They treat us badly enough as it is."
At least a few housing advocates believe Daily News owner and publisher Mortimer Zuckerman is working on behalf of the real estate industry to cripple the authority and thereby open up its prime land (along the East River, in Chelsea, on the Upper West Side, in Williamsburg and Red Hook) to development. Nevermind that Mr. Zuckerman exclusively develops commercial real estate.
Another prominent example of the gotcha news involves $42 million the City Council allocated for security cameras in 2009. While desperate for more funding, Mr. Rhea decided to suspend the council contributions to determine exactly the best use for them. In his view, many developments had security systems in place, but they were not having an appreciable impact on crime. He created the Safety and Security Task Force to meet with residents and better understand the issue. "John Rhea decided to freeze our money," Councilwoman Mendez said. "I didn't like it, but it was the right thing to do, and now, hopefully, we'll get the right cameras, the right security, for the right developments." Instead, the News lamented a rise in crime while NYCHA was developing the new security plan.
While trying to have the BCG report released, the News complained that the 87-page document cost $124,000 a page. "That's just stupid," Mr. Rhea said. "How about we talk about how the report could save NYCHA $70 million a year. It pays for itself seven times over in the first year."
Mr. Rhea's favorite story was the one about the $325,000 he spent for a two-day conference at the Javits Center that brought every NYCHA employee together to share their thoughts about the agency—an event painted as a management-driven boondoggle. To Mr. Rhea, it was part of a necessary refocusing. "At $30 a person, I would say that wasn't a waste of money, to be able to hear the ideas and concerns of every one of my employees," Mr. Rhea said.
"You can worry about the optics or the politics, or if you look like you're doing a good job," he continued. "We don't need that. We don't need another person just going through the motions. We don't need more pageantry. We're looking to make a difference."