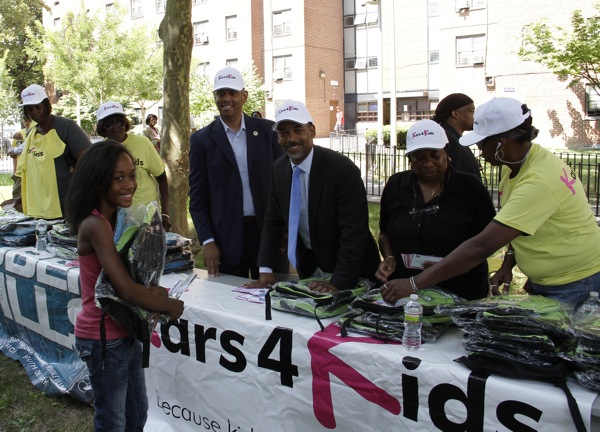 Is there enough time, resources or authority to make a difference? Despite widespread praise from housing advocates, many question whether or not Mr. Rhea can truly effect the change he speaks constantly of. After decades of disinvestment, no one person could turn around NYCHA in four years.
Still, there are advocates who argue the mayor could be doing more to support his chairman. Mr. Bach, the housing analyst at the Community Services Society, points to the billions of dollars the city funnels every years to private developers through the city's Economic Development Corporation, the millions more given to parks, museums, even new stadiums. "There's absolutely no comparison, and there's no comparable attention and support to the New York City Housing Authority," he said. How much time has the mayor spent promoting a ban on soft drinks this year? How much time has he spent on promoting NYCHA? It's a question of political capital, Ms. Vitullo-Martin of the Regional Plan Association said.
Yet political capital does not always get results either. Consider education, an area on which the Bloomberg administration has focused tirelessly. "The solutions are not always easy, clear, or even possible," Ms. Vitullo-Martin said.
Perhaps the experience of another public authority might guide NYCHA back on the right track. "In the 1970s, the MTA was on the verge of collapse, and in the '80s, it really executed an amazing turnaround," said Fred Harris, NYCHA's new director of development, who led the MTA's real estate portfolio at the time before spending two decades in private development. "I think NYCHA is at a point where it needs to make the same transformation."
The comparison may be apt for another reason. Despite all the improvements at the MTA, everybody still complains about it.
Last Thursday, without a cloud in the sky, John Rhea stepped out of his city-issued Toyota hybrid SUV and onto the leafy quad of Baisley Park Houses in Jamaica, Queens. He had on a navy suit, no pinstripe, light blue check shirt and matching tie. Local Councilman Reuven Willis, who grew up in the nearby South Jamaica Houses, had recruited Kars 4 Kids, a North Jersey Jewish charity, to hand out backpacks to families from the projects. "It is critically important these kids have the resources they need to succeed on the first day of school," Mr. Rhea said, touting yet another of his public-private partnerships.
NYCHA had paid to rebuild the project's community center three years ago, but it so far lacked the funds to open it. Instead, money would soon be spent on those new cameras, after two years of debate, and just in time—a police officer had been shot less than a month earlier. Mr. Willis went up the block to show off a basketball court that had been recently refurbished with a new coat of paint and a good weed whacking. It took 16 months, but it had been decades since anything had been done, and a totally new court was on the horizon, so he remained excited. "He came in, he met with my people, asked what we wanted, and he delivered," Mr. Willis said.
Scaffolding encircles many developments, suggesting repairs when there are none. It frustrates tenants, according to Mr. Willis, but he can live with it as long as more important problems are being tackled. Public housing, a work in progress.
"Growing up, did I know the NYCHA chairman? No. But everybody here does," Mr. Willis said, gesturing around the quiet street. And it was true, he was getting hugs and fist bumps from many in the crowd, though also some tough questions about the community center. Mr. Rhea promised he was hard at work on the problem.
As Mr. Rhea rushed off to one more backpack giveaway, before a day of meetings in the city, he paused to consider the work he was doing. "I don't want you to think I'm all pie in the sky," he said. "I know we've got a lot left to do, and the challenges are huge in turning this around. We have another 15 months to run hard to put a bunch of runs on the board, to execute against the plan."
He looked back at the kids holding their new backpacks aloft and smiled. "I wish this was the only part of my job."