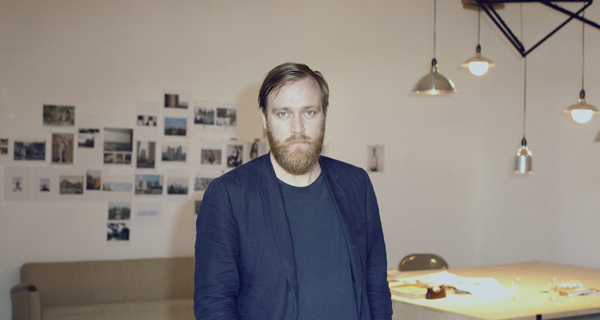 Sitting in Zinque, a boho hippie wine bar in Venice, Calif., Jesper Just, with his piercing blue eyes and disheveled blond hair, looked more like a surfer dude than an artist whose famously open-ended narrative films grace the collections of world-class museums like the Guggenheim, the Tate Modern and MoMA, and who was recently chosen to represent Denmark in the 2013 Biennale—in that other Venice. This was in late July, and the Danish-born, New York-based 37-year-old had just spent a few days filming in Llano Del Rio, a long-deserted socialist community in the Antelope Valley outside Los Angeles. He'd come to Zinque to discuss that film, Llano, that will have its world premiere in an exhibition opening at New York's James Cohan Gallery on September 6—along with two other new films getting their New York premieres—but he gave the impression that he'd prefer the content of his work to remain at least partly ambiguous.
This year is a big one for Jesper Just (pronounced Yesper Yust), who came to the attention of American art audiences in 2005 with his elaborate live opera, True Love is Yet to Come, the highlight of that year's first-ever Performa biennial in New York. It featured one live singer, Baard Owe, familiar from Lars von Trier's films, performing against a backdrop of filmed singers that included 20 members of the Finnish Screaming Men's Choir. Performa's director, Rose Lee Goldberg, had discovered Mr. Just's work through a film at his first New York solo show, at Perry Rubenstein Gallery, the previous year. The new show at James Cohan Gallery, whose roster he joined last year, is his first in New York since "Romantic Delusions," an exhibition of his films at the Brooklyn Museum in 2008. The show is the product of travels far and wide; aside from Llano, there is the title film, This Nameless Spectacle, shot in Paris's Parc des Buttes Chaumont, and Sirens of Chrome, shot in downtown Detroit's Michigan Theatre, which has been turned into a three-level parking structure (ironically, they kept all the original ornamentation). Place is important in all of the artist's films. In the world according to Mr. Just, characters are integral, but also, in some fundamental way, incidental—and they tend to remain, to a certain degree, ciphers. It is the location that is paramount. "I always start with the location," he said at Zinque. "From there, I build an idea related to social and cinematic conventions of space."
Llano depends for much of its effect on its bleak setting. "It's a ruin of a place that is no longer, but also a place that really never happened," he said. "It has a bit of a double meaning—a bizarre mix of utopia and dystopia, filled with failure as well as potent ideals." Job Harriman, a socialist, devised the town in 1913 after he ran for mayor of Los Angeles and lost. Water supply was unreliable, and his town didn't survive for long; it's been deserted for almost a century.
In the film, rain drums on metal debris in this former utopia, even as the sun shines brightly. A heavyset woman appears among the ruins, and it soon becomes clear that it only rains where she is working. "The rain is another layer of the story," said Mr. Just. "In my work, everything performs—characters and place, and maybe not in a way you'd expect." He is interested in how the ruins got that way. "A ruin only becomes a ruin because of time and weather, and so it makes this almost look like a monument that is destroying itself. I'm making it look like stones are falling off the wall she is working on." (He paused and, with a smile, added, "FYI, I am not destroying any ruins": no artifacts were harmed in the making of this artwork.) The solitary woman repeatedly picks up the stones and attempts to put them back in place. "It's very much like the story of Sisyphus—there is no beginning, no end," he said. The effect is reinforced by the fact that, in the Cohan gallery, the film plays on a loop. "It is more conceptual; it is not about her emotions, it is about her accepting her fate."
The film cuts to a dark underground engine room where machines oozing liquid are revealed to be the source of the rain destroying the structures above. These elements, Mr. Just explained, are related to the town's history. "The original design was by a woman named Alice Austin … It was supposed to have homes without kitchens—there would be one main kitchen in the center of town. The town would be a circular design, connected with tunnels to the main kitchen—and it was all to free the women from doing housework; they would have time for themselves. But they never got to build the actual tunnels."
In Llano, "The tunnels we move through … do not seem to serve or set free the woman seeking to conserve the Llano del Rio ruin. On the contrary, the tunnels and the machine pumps they contain appear to be her number one enemy as they ensure the steady fall of rain on the ruin she seems intent to save."
Llano has something of a science fiction element to it. It may, he said, be more conceptual than his other films. "Here's this weird monument out in the desert, and it's continuously destroying itself while somehow this girl is trying to rebuild it."
Still, like his previous films, it is related to the Dogme 95 Collective created in the mid-1990s by fellow Danes Lars Von Trier and Thomas Vinterberg. Harking back to the traditional values of story and theme, Dogme resulted in films like Mr. Vinterberg's seminal work, The Celebration, which adhered to various strident rules established by the group, including shooting entirely on location and no use of superficial action or special effects. Mr. Just may be an avant-garde artist, but he is also a Dogme-style traditionalist.