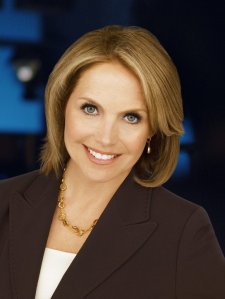 It has been over a year since Oprah left her daytime perch and nobody has yet managed to fill that gaping void. However, Katie Couric, whose show, Katie, premiered last week, is already being crowned daytime Queen by her staffers.
Flacks for Ms. Couric's eponymous show sent out an email this morning touting what they described as her "impressive" debut ratings. Specifically, they noted Ms. Couric's program "towered over" Anderson Cooper's daytime show, "bested" Dr. Phil among women aged 25 to 54, which is the most valuable demographic for daytime talk shows, and "beat" Dr. Mehmet Oz.
In addition to performing well against her veteran competition, Ms. Couric scored ratings that were higher all five days last week than her other rivals who are also daytime talk rookies including; Steve Harvey, Jeff Probst and Ricki Lake. Overall, the week ended well for Ms. Couric, who premiered as he started as TV's #3 syndicated talk show in the coveted women aged 25 to 54 demographic.