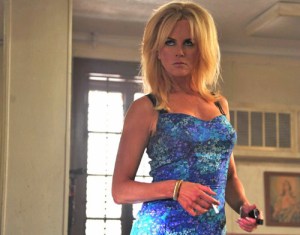 Last year, the New York Film Festival threw galas in honor of two great cinema auteurs, David Cronenberg and Pedro Almodóvar, on the occasion of screenings of their respective new films, A Dangerous Method and The Skin I Live In. This year, the festival is throwing a similar fete in honor of the Southern-noir pulp nightmare The Paperboy; the guest of honor, though, is not the film's director, Lee Daniels, but a supporting actress, Nicole Kidman.
With relatively brief screen time in The Paperboy, Ms. Kidman takes over the film; a lurid mélange starring Zac Efron as a young man who stumbles upon conspiracy and evil, the film tips all too often, as did Mr. Daniels's last effort, Precious, into excess. But the Australian actress, playing a past-her-prime beauty with a deadly attraction to things that are just plain wrong, clarifies the film's Baroque obsession with violence.
In her polymorphous perversity, Ms. Kidman's character humanizes the film's nastiness. She puts a face on its obsession with the depraved, and through a conscious dulling of her intellect and her stock-in-trade melancholia, makes that depravity seem almost sweet. A scene in which she takes a near-naked Mr. Efron, 21 years her junior, into her arms and waltzes with him is the communion of two broken souls; when she urinates on him to relieve a jellyfish sting, it's is an act of pure, frenzied love. "She gets her—she understands this woman," Mr. Daniels told The Observer. "And she understands my insanity."
[youtube http://www.youtube.com/watch?v=I7-cAqIpM8s%5D
That is precisely what, at least since her reinvention as a serious actress 11 years ago, Nicole Kidman does for every serious movie in which she chooses to act. She personifies the human consequences of directors' intellectual arguments. And of all the actresses working today, she has the riskiest attitude when it comes to her collaborators. Among her contemporaries and past co-stars, Meryl Streep has winnowed her stable down to a few subpar directors who let her to do her thing. Meanwhile, few directors seem to have any idea what to do with Julianne Moore, who's largely moved to TV. By contrast, Ms. Kidman has worked with Mr. Daniels, John Cameron Mitchell, Noah Baumbach, Jonathan Glazer and Lars von Trier, among other iconoclasts, and in each case she hasn't merely been a part of an exacting vision, but pushed it to new places.
Part of her uniqueness, as has been widely observed, is her appetite for a kind of chic suffering. Before 2003's Cold Mountain came out, New York Times critic A.O. Scott, in an essay on Ms. Kidman, noted of her characters, "Their misery is a sign of her independence, her courage, her victory over unpleasant circumstances, and our applause is the measure of our compassion." This view of the actress's career took into account her then-recent divorce from Tom Cruise and all the subsequent tabloid attention. In the years since, Ms. Kidman's celebrity has dimmed—her name is no longer, as Mr. Scott's put it, "inscribed at the very top of the Hollywood A-List." With her name coming up only in the context of a paycheck movie, like 2007's The Golden Compass, or a magazine spread on alleged plastic surgery victims (remember last year, when she claimed her beauty was natural, then admitted having used Botox by saying she'd stopped?), her audience's compassion has waned commensurately. "Everyone was against hiring her. How could you hire her? She's an ice princess," said Mr. Daniels. "But those are the roles Hollywood offers you. They put you in a box. And she refuses."