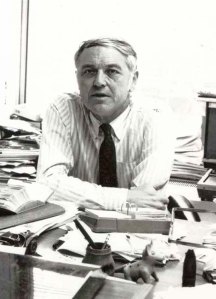 Last night, legendary Knopf editor Ashbel Green died while at dinner with his wife, Elizabeth Osha, and friends near their Stonington, Conn., home. He was 84.
Mr. Green, who was known as "Ash," started working at the publishing house in 1964 and went on to edit over 500 books by a stable of well-known authors, political figures and journalists such as Gabriel Garcia Marquez, Vaclav Havel, George H.W. Bush and Walter Cronkite.
To many in the publishing world, Mr. Green was one of the last of the old-style gentleman editors.
"You could hear his typewriter from anywhere on the floor," said Paul Bogaards, director of publicity at Knopf. "He was a classic editor with a red pencil."
"He was an editor's editor," said Knopf editor Gary Fisketjon. "Those kind of people are rare in any generation.
Born in 1928, Mr. Green graduated from Columbia College in 1950 and later earned a master's in Eastern European history at Columbia University. He is a descendant of Presbyterian ministers; one of his ancestors, also named Ashbel Green, was the eighth president of Princeton in the early 1800s and an acquaintance of George Washington.
He began his career in publishing at Prentice Hall in publicity, and started as a managing editor at Knopf in 1964. He was promoted to senior editor and vice president at the publishing house in the early 1970s. Even after he retired in 2007, he remained up-to-date on the industry and stayed involved with his authors and colleagues.
"I really think that most editors wake up each day hoping they're going to find something they love," Mr. Green told the Missouri Review in 2000. "I have a real sense of excitement when a new writer comes in with a novel or a collection of stories or an idea for a political book–someone you feel has a fresh voice, whom you can publish with a lot of enthusiasm."
Mr. Green was also known for helping young editors.
He was both a friend and mentor to Andrew Miller, who came to Knopf from Vintage to take over Mr. Green's stable of writers when Mr. Green decided to retire in 2007.
Mr. Green would invite Mr. Miller and their assistant over to his Upper East Side apartment for drinks about once a month—a kind of involvement with younger editors that is rare in book publishing.
"He was a mentor to me by example," said Mr. Miller. "He never had a bad thing to say about anybody. He was unflappable. He handled bad news with equanimity. He handled authors and agents so well and was always so kind—which is harder than it seems."
When Knopf vice president and senior editor John Siegel started at Random House in the 1980s, Mr. Green came into his office within five minutes and offered to take him to lunch.
"His default was to help young editors," said Mr. Siegel, who remembered how Mr. Green would sometimes defer to him when it came to acquiring books that they both wanted.
"He was part of the fabric of this place. He was such a decent, decent man. The thing with Ash was that he always took the high road," said Mr. Siegel, audibly upset.
Although Mr. Green's death was sudden, he had struggled with diabetes and cancer and had recently been diagnosed with Parkinson's disease.
"The last few years weren't easy, but he made it seem easy," said Mr. Fisketjon.
A funeral will be held in Stonington this Sunday. A memorial service in the city is being planned for the fall.