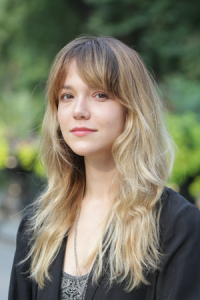 Almost exactly one month after City & State laid off their main blogger Chris Bragg, political reporter Laura Nahmias, sent management word she will leave the local political news publication in two weeks, according to sources familiar with the situation. Reached for comment, Ms. Nahmias told Politicker, "I've loved working with incredible people over the past two years, but I'm eager to pursue other opportunities in journalism."
Ms. Nahmias has made a name for herself in investigative pieces involving legal intricacies other reporters tend to overlook. Notably, she won an award for her stories about the twice-indicted Assemblyman William Boyland Jr. that creatively matched his Facebook activity to his inactivity in Albany.
Ms. Nahmias is the fourth to leave City & State this year. In addition to Mr. Bragg, Managing Editor Andrew Hawkins left for Crain's and Editor Adam Lisberg departed for a job with the Metropolitan Transportation Authority in March. Adding to the uncertainty surrounding the publication, Manhattan Media, which publishes City & State, was recently put up for sale.
"Laura is a terrific investigative journalist who has done a stellar job keeping New York State's politicians more honest," Mr. Lisberg's replacement, Morgan Pehme told us. "We wish her only the best as she moves on to explore new horizons in her career."
Mr. Lisberg also had nothing but praises for her. In an email to Politicker this morning, he wrote:
Laura was a big part of what made City & State work when I was running it, and it's going to be tough for them to find anyone to match her combination of aggressive records-based reporting (see William Boyland Jr.) and elegant feature writing (see Josh Zwerin). Her skills and her voice are going to be a huge win for wherever she's heading. She won awards and got noticed in the year she worked for me; I can't wait to see what she's going to do next.
Needless to say, we wish Ms. Nahmias the best.
Full Disclosure: Last year, this reporter freelanced stories for City & State, then called City Hall News. This post has been updated with a quote from Mr. Pehme.