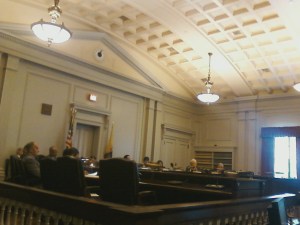 TRENTON – Online education is here to say, and the phenomenon is growing worldwide, an expert told the Joint Committee on Public Schools today.
The committee held one of four hearings it has planned on "virtual learning," or learning almost entirely by computer and not in a classroom.
Susan Patrick, president of the International Association of K-12 Online Learning, said many countries –including developing nations such as China, India, Singapore, Mexico, Canada, and Hong Kong, – have digitized many of their curriculums to provide access to students in areas where schools are not close.
"Education is becoming an export," Patrick said. "It is no longer a cottage industry."
She added that many of the Arab Gulf states have been working to provide online education opportunities to girls, who don't always have the access that boys do.
She cited a National Center of Education Statistics study, which said that 55 percent of 15,000 school districts provide online learning opportunities.
In New Jersey, support for virtual schools has largely fallen along party lines, with Republicans generally supporting it, and Democrats generally opposed to it, largely citing weak accountability.
By way of contrast, India has the goal of providing online education opportunities to 100 million more students in the next 10 years, mostly because it can't afford to build thousands of new school buildings, according to Patrick.
"It's not the computer teaching students. It's highly trained teachers that know how to use the technology," she said.
In addition to having qualified teachers leading the online subject sessions, Patrick said that strong assessments are just as important for successful online curriculums.
Assemblywoman Connie Wagner, (D-38), of Paramus, said the goal of Wednesday's hearing is to gain a better understanding of virtual learning in order to implement future policies.
"Hopefully, we'll come away with a better understanding," Wagner said. "You can't have any regulations in place. We need to understand the pros and cons."
Wagner said three more sessions will take place on this topic, involving teachers' unions and administrators, parents and the school officials themselves.
"This will be a long journey. It will take us a while to get through," Wagner said.