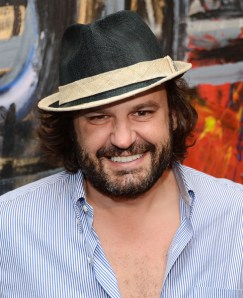 It looks like Lindsay Lohan may not need to camp out at her assistant's Tribeca apartment forever. Which is great news, as couch surfing can grow old, even for someone like LiLo, accustomed to crashing everywhere from club banquettes to L.A. county lock-up.
Ms. Lohan's portraitist and rumored lover Domingo Zapata is reportedly checking out townhouses in the West Village, according to The Real Deal, who spotted a tweet from NestSeekers broker Ryan Serhant announcing that he was taking the Spanish artist to view a townhouse on Downing Street.
Alas, Mr. Serhant, after the twitter declaration, apparently played coy when The Real Deal pressed for more details.
Perhaps Mr. Zapata is hoping that an attractive abode will encourage Ms. Lohan to spend more time indoors after last week's unfortunate hit-and-run incident, during which she allegedly hit a pedestrian while behind the wheel of Mr. Zapata's Porsche?
The relationship between Ms. Lohan and Mr. Zapata remains unclear, but besides the fact that the two were seen leaving the Bowery Hotel together last week (Mr. Zapata is said to make his hom there whilst in New York), we'd guess that only love could compel a man to lend his Porsche to a woman with Ms. Lohan's driving record.
Certainly, Mr. Zapata might be hesitant to hand over the keys of a new house to LiLo, but staying with Mr. Zapata would certainly be a win for Ms. Lohnan. At least, not having to cover rent should help Ms. Lohan pay off her $46,000 bill at Chateau Marmont?
kvelsey@observer.com