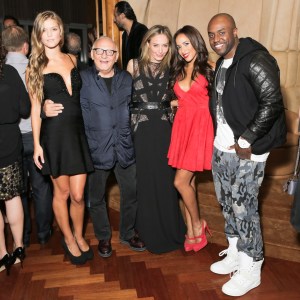 Rebecca Taylor was not at Lincoln Center. Had we not been slammed with events, emails, editorial projects, tweets and social babysitting of our entourage, we would have easily noted this. Rebecca Taylor was scheduled for 2 p.m. on Saturday at Highline Studios Downtown. Yet we had eagerly arrived at the Mercedes-Benz complex, bewildered and irritated. American Express to the rescue. The Observer made the smart move to get in touch with the skybox mavens for a little good old fashion week S.O.S. And rescued we were!
Within ten minutes, The Observer was ushered to the dark and stylish skybox, Champagne in hand and fruit on our plate. Amen. Keen on a break from the masses, we schmoozed with publicists, AmEx VIPs and other media gurus. Before long, we watched from our elite little post high above, as Mara Hoffman paraded her vibrant, billowy frocks and caftans down the runway.
More than content to combine work and play, we handed off our Hervé Léger seats to a cohort and hunkered down for the show, refreshed and content.
After the show, one of the producers of the lavish hideaway announced that Lubov Azria herself would address the intimate coterie for a brief discussion.
"I am his midlife crisis," joked Ms. Azria about her fashion mogul husband.
When asked about if she had experienced any drama on the day of the show, she reported that look No. 4, Maria, had a panic attack.
"She couldn't breathe," Ms. Azria revealed and went on to explain that the models are teens. "That's why they have those bodies!"
Model drama aside, Ms. Azria was composed and engaging throughout the chat.
Things got even better, when Max and Lubov Azria invited The Observer to their Fashion Week after-party later that evening, which was presented by star-power media magnets Billboard and The Hollywood Reporter. The Top of the Standard was brimming with beauty—Daisy Fuentes, models Jessica White and Jessica Hart, and Dania Ramirez sightings come to mind—but the best attraction was delivered by DJ Harley Viera-Newton and DJ Kiss who had us sloshing and swaying deep into the night.  Before our exit, we just couldn't resist one more exchange with Ms. Azria and dove in for a kiss-kiss, which she gracefully welcomed.