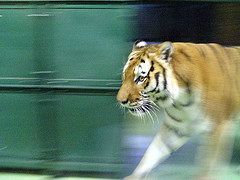 Sometime around 3:30 this afternoon a man in his 20s or 30s entered the tiger habitat at the Bronx Zoo. At least one of the tigers then did what tigers might do in such a situation.
As of 5 p.m. the man was in critical condition at Jacobi Hospital with severe injuries to his leg. Bronx Zoo director Jim Breheny told the New York Times that emergency response staff quickly jumped in and fended off the tiger with a fire extinguisher. They were able to sequester the tiger and transport the man to the hospital.
The man may have jumped from the monorail in his effort to enter the exhibit.