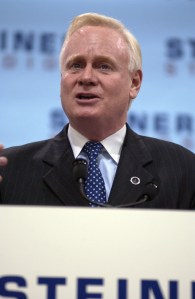 Brooklyn State Senator Marty Golden may be a conservative Republican, but he can still rack up influential union endorsements as he campaigns for reelection against Democrat Andrew Gounardes. To wit, the 200,000 member union SEIU 1199 announced their endorsement of Mr. Golden this morning.
"He has written and passed many important pieces of legislation that have improved and protected the health and well-being of all New Yorkers," Kevin Finnegan, 1199's political director, said in a statement. "The members of New York's largest health care workers union, 1199 SEIU, appreciate his efforts. We intend to work hard to see the Senator re-elected, so he can continue his outstanding work in Albany."
Of course, the union isn't a complete stranger to supporting Republicans. For example, 1199 notably cut a deal with former Governor George Pataki and is credited with being instrumental in the GOP pol's reelection efforts.
However, the 1199 announcement is the latest of several union endorsements for Mr. Golden, most notably the highly-organized Hotel Trades Council. In recent days and weeks, the incumbent has also rolled out a smaller stream of trades groups, uniformed labor and smaller chapters of larger organization, clearly an effort to show his strength among blue-collar voters.
For his part, Mr. Gounardes secured a number of Democratic labor staples for his campaign so far, and managed to mount an aggressive effort to stop the large AFL-CIO from going Mr. Golden's way.
The Senate Democrats have repeatedly said defeating Mr. Golden is one of their statewide priorities in November's general election. However, thanks to a favorable district, a fundraising advantage and union support like 1199's, victory will be no easy task for Mr. Gounardes.