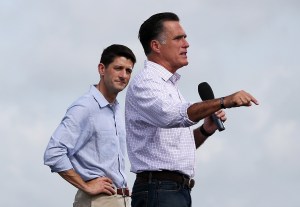 Along with Mitt Romney and Paul Ryan's tax returns, the Romney campaign released letters from both men's physicians this afternoon that reveal more than probably anyone ever wanted to know about the Republican presidential candidate and his running mate. These medical records include information on how much Mr. Romney and Mr. Ryan weigh, their exercise routines and what drugs they are on.
Dr. Randall Gaz of Massachusetts General Hospital has been Mr. Romney's physician since 1989. In his letter, he said the last time he examined Mr. Romney was in early August. At that time, according to Dr. Gaz, Mr. Romney was a "healthy appearing, energetic, strong, physically fit male" who weighed 184 pounds.
"He has shown the ability to be engaged in multiple, varied, simultaneous activities requiring complex mental, social emotional and leadership skills. He is a vigorous man who takes excellent care of his personal physical health," Dr. Gaz wrote. "He has reserves of strength, energy, and stamina that provide him with the ability to meet unexpected demands. There are no physical impairments that should interfere with his rigorous and demanding political career as the next President of the United States."
Dr. Gaz attributed Mr. Romney's good health to a history of "past intensive exercise with regular running" and generally healthy habits including an avoidance of alcohol and tobacco in accordance with his Mormon religion.
"He totally abstains from drinking any alcoholic beverages and does not use any tobacco products or illict drugs. He eats a high fiber diet with abundant fruits and vegetables and minimizes intake of high cholesterol foods and concentrated sweets," wrote Dr. Gaz of Mr. Romney.
Despite Dr. Gaz's generally rosy assessment of Mr. Romney's health, he noted a few trouble spots in the candidate's medical history; an appendectomy in 1965, the injuries from his 1968 car accident, an allergy to penicillin, the removal of a fatty tumor from his back in 1985 and a laceration to his right hand in 1987.  Mr. Romney has sinus bradycardia (a decreased heart rate) and a "minimally symptomatic" enlarged prostate. He also has high blood cholesterol levels, though Dr. Gaz said he has a "normal cholesterol of 169." In Mr. Romney's family history there are cardiac arrythmias, heart attacks and prostate cancer.
Dr. Brian Monahan, the Attending Physician of the U.S. Congress, said Mr. Ryan's "overall health is excellent" and he weighs 163 pounds. Mr. Ryan is known to be a devotee of the "extreme home fitness routine" P90X and it is apparently working. Dr. Monahan took note of the fact Mr. Ryan has "practiced important preventive lifestyle choices to include regular vigorous aerobic and strength-building exercises, a heart healthy diet, smoking abstinence and infrequent alcohol use."
The only trouble spots in Mr. Ryan's medical report were an "airway hypersensitivity" for which he has an "as needed albuterol inhaler," a "history of herniated disc" and an old "right knee medial meniscus injury." Mr. Ryan also has a history of "early onset (late fifties)…coronary artery disease " on his father's side of the family. Clearly, both men's doctor's think there's no question they're in good enough shape to survive the grueling home stretch of this presidential campaign.