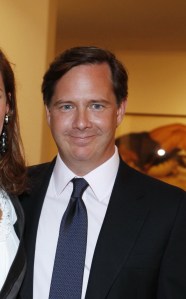 Simon de Pury, the chairman of Phillips de Pury & Company, announced today that Michael McGinnis, the company's worldwide head of contemporary art, has been named its new chief executive officer. Bernd Runge is stepping down from the position, but will stay on as a special advisor to the company's shareholders. Mr. Runge, a spy for the East German Stasi secret police in the 1980s, was named CEO in early 2009, shortly after the Moscow–based luxury goods company Mercury Group took a controlling share of the auction house.
Mr. McGinnis joined the company in 1999 to start its contemporary art department.
"I am honored to lead Phillips de Pury into a bright future," said Mr. McGinnis in a statement. "We are poised to excel in all aspects of our business and to offer our clients an impeccable level of service."
"Michael's promotion presents an exciting opportunity for the company," said Mr. de Pury in a statement. "It has been my privilege to work with Michael for the past 12 years."
Congratulations, Mr. McGinnis.