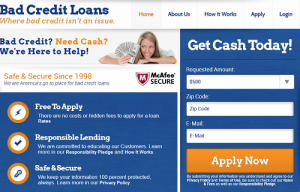 Payday lending might be off-limits for military personnel, but it's fine for New York City firefighters—at least, that's the message a website that facilitates payday loans appeared to be sending when it sponsored a cobblestone at the National September 11 Memorial & Museum in downtown Manhattan.
Congress effectively outlawed payday lending to military personnel in 2007—capping interest rates that can be charged to active service members at 36 percent, and prohibiting loans to military borrowers secured with checks, electronic access to bank accounts, vehicle titles or allotment of military pay—after the Department of Defense reported that "predatory lending undermines military readiness, harms the morale of troops and their families, and adds to the cost of fielding an all volunteer fighting force."
Nevertheless, BadCreditLoans.com, an online service that connects borrowers with payday lenders, sent out a press release yesterday touting its sponsorship of the museum with its purchase of a cobblestone honoring firefighter Pat Lyons of Squad 252, who lost his life while trying to rescue others during the terrorist attacks of September 11, 2001. "BadCreditLoans.com sponsored a cobblestone to honor our fallen heroes and their families," the company said in the release. "No one will ever forget the events of that tragic day."
According to the BadCreditLoans.com website, prospective borrowers complete an online form and, assuming they meet qualifications such as monthly income of at least $1,000 a month, receive loan offers from the website's lender network. After a borrower provides an e-signature on a loan form, the loan amount is deposited directly into his checking account. On the date of the borrower's next payday, the lender automatically withdraws principal, interest and fees.
"Any kind of payday lender is a bad payday lender," Kathleen Day, a spokeswoman for the Center for Responsible Lending, told The Observer, noting that the high-interest loans often plunge borrowers into a vicious cycle, in which they take one payday loan to pay the last. "If it's not a good product for active military and their families, why is it good for anybody else?"
Online payday lending can be particularly pernicious, according to the website of the Consumer Federation of America, because of higher costs, security concerns and the ease with which an onerous loan can be accepted.
"BadCreditLoans.com does not market or provide loans to military personnel," Kelsey McBride, a spokeswoman for BadCreditLoans.com, said in an email to The Observer, adding that borrowers in many states can expect to pay annual percentage rates of between 391 to 521 percent on short-term loans. "However, we believe that it is unfortunate that congress [sic] has placed limits on short-term loans to military personnel. They deserve the right to decide what financial options best suit their needs."
The National September 11 Memorial & Museum directed us to web pages containing information on the cobblestone sponsorship program, but declined to comment further. BadCreditLoans.com sponsored the cobblestone in the name of company owner Matt Becker, according to the museum's website.