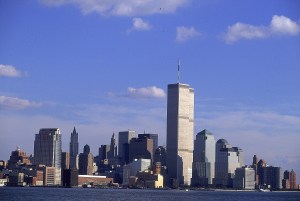 After 9/11, Mitt Romney invested in Endurance Specialty Holdings, a company designed to profit off the chaos that followed by the attacks. When Politicker first wrote about Mr. Romney's investment in Endurance last week, Romney campaign spokeswoman Michele Davis told us the investment was part of Mr. Romney's blind trust, which means he didn't directly make the decision to invest in the company. However, upon further review, we realized that, though the holding has since been moved to Mr. Romney's blind trust, he was directly responsible for his initial investment in Endurance.
Endurance Specialty Holdings was one of many startups that emerged in the aftermath of 9/11 to purchase debt from insurance companies who faced billions of dollars in claims after the attacks and to sell insurance at high prices generated by the soaring rates that resulted from this shock to the capital at traditional insurance companies. Mr. Romney was invested in Endurance Specialty Holdings via Golden Gate Capital, a private equity firm founded by a former Bain Capital executive in 2000 and through another investment fund, CCG Investment Fund, LP, which is related to Golden Gate.
We reached out to the Romney campaign to ask whether Mr. Romney was aware Endurance was designed to profit off the 9/11 attacks and, in light of that information, if he felt his investment in the company was appropriate. We were put in touch with Ms. Davis, who said the investment in Endurance was part of the blind trust and, thus, beyond Mr. Romney's control.
"Governor and Mrs. Romney's assets are managed on a blind basis. They do not control the investment of these assets, the investment decisions are made by a trustee," Ms. Davis said.
Mr. Romney's presidential financial disclosure report, which was filed in June, does indeed show his Golden Gate and CCG investments are in a blind trust. However, back in 2001 when Endurance launched and Golden Gate invested in the company, the financial disclosure he filed for that with the Massachusetts State Ethics Commission identifies multiple CCG Investment Fund holdings that were directly owned by Mr. Romney and not in any blind trust.
In February, Mr. Romney said he only established his blind trust upon his election as governor of Massachusetts in 2002.
"I said, look, I'm going to take what I have and give it to a blind trustee, someone who manages the money for me, not for me, not – without my knowing where they invest," said Mr. Romney. "And that's been the case for ten years."
We have reached out to Ms. Davis multiple times since last week to clarify these discrepancies and have yet to receive a response.