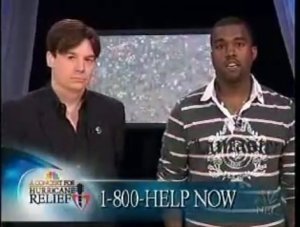 If there's one thing all Americans likely understand in some cursory manner about Mitt Romney, beyond the matter of his religion, it's that something is curious about the way he pays his taxes. Most Americans, for example, don't have dealings with shell corporations in the Cayman Islands. Also, in the circumstance that they're asked for their tax returns, most Americans usually don't have a choice as to whether or not they're going to produce them. But as of yet, the Republican candidate for the highest office in the land hasn't exactly seen his tax returns become a matter of interest within pop culture. Until now.
Kanye West's newest album, Cruel Summer—a compilation of his G.O.O.D. Music label's artists—is to be released next Tuesday, September 18. A few of the tracks have already been released, but today saw the release of the album's opening track, To The World, which features R. Kelly singing the hook. And at two minutes and 25 seconds in, the following verse comes from Mr. West:
I need a new crib to hold my plaques
Rick Ross had told me that.
Said I'd be all up in Goldman Sachs.
Like, "These ni**as tryna hold me back
These ni**as tryna hold me back."
I'm just trying to protect my stacks
Mitt Romney don't pay no tax
Mitt Romney don't pay no tax.
For those in need of contextual help herein: Rick Ross is a fellow rapper, and "stacks" refers to money. In other words:
He's just trying to protect his money and find a decent place to invest it.
He's been advised by fellow rapper Rick Ross to invest it with Goldman Sachs Private Wealth Management, because people will no doubt try to prevent his liquid wealth from growing, by hook or by crook.
Take Mitt Romney, for example!
Mitt Romney found a way to ostensibly evade the full reach of the Internal Revenue Service—or at the very least, a tax rate for people as wealthy as he is—and if Mitt Romney doesn't have to pay taxes, why should Kanye West?

Previously, Kanye West famously told the world that former president George W. Bush "does not care about black people" and later imagined his eventual foray into fatherhood:
And I'll never let my son have an ego.
He'll be nice to everyone
wherever we go.
I mean
I might even make him be Republican
So everybody know he love white people.
And now Mitt Romney can say his taxes have been rapped about. Which his opponent can not.
fkamer@observer.com | @weareyourfek