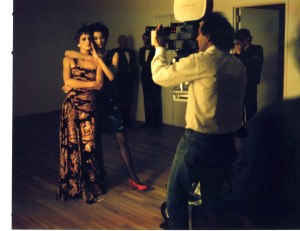 You are looking at a photo of a man in a coffee shop. He is wearing a straw hat, frayed around the edges. His hair is white underneath, and long. His hand is grasping a coffee cup, but he is not looking at it. He is looking at someone out of frame, making a gesture with his free hand: fingers extended, palm pointed slightly diagonal and down. The universal sign for "This is the important part." In mid-gesture, he is animated. He does not seem to know he is being photographed.
This is how Denis Piel might have posed the scene of himself being interviewed about his latest book, Moments. The photographer with the flair for the cinematic is set to release a coffee table collection later this month with Rizzoli. Moments is a series of images, mainly of models and actresses, that Mr. Piel shot on the set of various advertising and editorial campaigns during his tenure in the '80s as of one the magazine world's Big Names.

His more famous works can be seen on the covers of Vogue, Vanity Fair and GQ; in 1979 he was handpicked by Condé Nast's Editorial Director Alexander Liberman, along with Irving Penn and Richard Avedon, as one of the few photographers to ever have a contract with the publishing house. Over the course of his tenure, Mr. Piel shot more than 1,000 editorial spreads in the U.S., German, Italian, French and English versions of Condé Nast titles.
Before Annie Leibovitz draped a sheet over a 15-year-old Miley Cyrus and called it a day; before Terry Richardson made it into Page Six with accusations of masturbating in front of naked models he was shooting, Mr. Piel and his contemporaries were displaying their contributions to the century-old "art-or-pornography" debate on the front pages of magazines and fashion spreads for luxury products.
But besides the transgressive nature of partial nudity in a high-end glossy, the comparisons between Mr. Piel and his contemporaries—which also included Vogue's preferred cover fashion photog, Helmut Newton—are few and far between.
"They were very, very, very … and I'll add another very, different," former Vogue editor Grace Mirabella recalled of the famous cover photographers in the '80s. "Helmut—who was superb, had a great sense of style—was always looking for the deepest, not-best story about the women. In other words, he put them in situations that were very uncomfortable, that was this close to being excessively sexy, and almost questionable."
Mr. Avedon, meanwhile, was "the strongest" in fashion history, according to Ms. Mirabella, with his monochromatic, soul-penetrating portraits. And Mr. Piel? "Would it be superficial of me to say that his were the most attractive?" she wondered.
"He was the best of his moment. He was able to get the allure of the model while still keeping this sense of reality that was missing from a lot of the more posed shoots."
"He was not the usual type … if you could consider photographers of this period a type," Jade Hobson, the creative director of Vogue at the peak of Mr. Piel's fame, told The Observer. "For example, he had an Australian accent."
He also had a casualness in both dress and demeanor that put models at ease: "With Denis, he was always looking for that 'off' moment. So many photographers at that time were looking for the girls to be 'on,' but Denis wanted that awkward moment between a pose. He was looking for something more real."
"His was the antithesis of a fashion shot," she concluded.
In truth, Mr. Piel is more interested in models who can act (and vice versa) than ones who just blindly follow direction. He can (and will) proudly claim that he was the first photographer to have actress Uma Thurman sit for a shoot. There she is in Moments, at age 16, pouting and pulling at an oversized wifebeater that looks in danger of falling off at any second.
The photographer admits to being partial to curvier woman (as defined in the realm of modeling, that is), which also made him an outlier of fashion photography. Isabella Rossellini frequently appears in Moments, as do Rosemary McGrotha and the ill-fated Gia Carangi.
"I wasn't round, but I wasn't rail-thin," former model/actress and frequent Piel collaborator Amanda Pays told The Observer. "He was interested in the female body in a more sort of natural form."
Ms. Pays admitted that she had originally been uncomfortable with the idea of doing a nude photo for Mr. Piel for a personal collection (though she got to keep her hat in the shot, which she used as a fig leaf). "But there was not something not creepy about Denis. It wasn't so much about being naked as it was getting to know you as a person. Doing a portrait that was just a little bit deeper than a physical picture."
Perhaps because, like the saying goes, what he really wanted to do was direct.
"With my photos, I really want to do is tell a story. I want to set up a mise-en-scène," Mr. Piel expounded, dropping some film vocabulary into an explanation of his famous 1983 photo "Video #4." (The snapshot features Nastassja Kinski on a red couch, holding a phallic-seeming video camera. She is clothed only in fishnets and a black mesh bra.)
"What a picture really does is make you think about what happened right before the photo was taken, or what's about to happen."
Mr. Piel cites as inspiration not another photographer, but Stanley Kubrick: the director had planned to write an introduction to Mr. Piel's book, but passed away before seeing it to fruition.
"What was great about Kubrick was that he never told the same story twice. He didn't need to brand himself; instead of today, where people make 10 movies and you feel like you've just seen one."
Mr. Piel's cinematic flourishes define his body of work. Peter Arnell, the creative director for Donna Karan's seminal ad campaigns in the '80s, recalled collaborating with Mr. Piel for shoots of hyper-realistic city scenes. This series of photos evolved into a video ad, which follows Ms. Karan as she is driven around New York, trying on clothes and getting ready for a date. Ms. Karan's inner thoughts are conveyed in a pre-Carrie Bradshaw monologue of soundbites: "I live for luxury, but the real thing … an afternoon nap"; "Dark glasses are like being behind a waterfall … safe and daring at the same time," and "God, why won't he call?"
"The video was revolutionary," Mr. Arnell stated as a matter of fact. "That's because the best way to engage an artist of Denis's talent is to explore, and not go in with very tight preconceived notions, like this definitely has to be a print, or it has to be television. Denis was so excited to do film, and he was really able to capture the idea of the modern woman on the go, which is what Donna wanted."
Ms. McGrotha, who met Denis Piel on an Elle shoot in the '80s, became one of his most frequently photographed subjects. She remembered him as more as a Kubrick-type obsessive, sometimes having her hold poses for hours while setting up the lights for cameras with low shutter speeds.
"He was very intense, very precise. He always wanted you to live a certain role … there was a lot of role-playing of different characters," Ms. McGrotha sighed. "But sometimes he'd want your personality, which was a lot harder."
Mr. Piel saw the idea of models "playing themselves" somewhat differently. "Sometimes I would go on shoots, and I'd take my own pictures first. Like the Vogue story we did on Amanda [Pays], I took her picture first, before the shoot. I like to get as raw as I can, as much of the personality in the model before they are all made up and artificial." An odd word choice for a fashion photographer.
He explained: "When Andie MacDowell was chosen to do Sex, Lies and Videotape, the director was very clever. He cast her to not act. She was herself, she was playing herself. And that's why she was so great in that film."
Ms. MacDowell was a former model of Mr. Piel, posing for him in Harper's Bazaar and Vogue in 1985.
"He shot me in my early 20s, when I had just finished wrapping St. Elmo's Fire," the Southern-twanged actress told The Observer over the phone. "But I wasn't a star by any means. I was an introvert, so it was good for me to work with someone like Denis, because he worked like a director. He always came up with some kind of ideas or concepts of a character you'd be playing. He was getting people to play out these roles, and it gave them an opportunity to be bolder than a model normally would."
Eventually Mr. Piel did become a director: In 1995, he directed his own feature, Love is Blind. The documentary chronicles the first year of marriage between two blind people. Mr. Piel refers to it as "the beginning of reality television."
After Condé Nast, Mr. Piel found himself as something of artistic futurist. He formed several creative collectives, like the Umbershoot, a virtual "ideasbank" where independent filmmakers could share their work and cross-pollinate techniques and theories. It went belly-up in the dot-com bust. Still … no regrets.
"Our idea was to have films distributed online; today that's a reality," Mr. Piel said. So he was right after all.
Of course, he is best remembered for his photographs. Hence Moments, which he hopes will re-establish him in the art world.
"I was planning to do a book for years, but never got around to it. And then I looked around, and saw that my position within my peers had been lost," Mr. Piel lamented.
Today, Mr. Piel is excited about a new project—one that takes his latest obsession and combines it with photography—turning the 17th century chateau in the South of France where he currently resides into a "sustainable hotel environment"-slash-"utopian Eden."
"We're really into permaculture right now," Mr. Piel said. "I want to take pictures of this fantasy of a tomorrow where the world has collapsed. People have to think, 'Well, how am I going to eat? How am I going to live?' They'll have to figure out their relationship to the Earth."
He plans on portraying this fantasy future with a photographic series where semi-nude women interact with nature.
And why wouldn't they be clothed?
"Well, because we won't need clothes," Mr. Piel replied. Ever the pragmatist, he quickly added, "Or maybe we do. Maybe it's just minimum clothes."