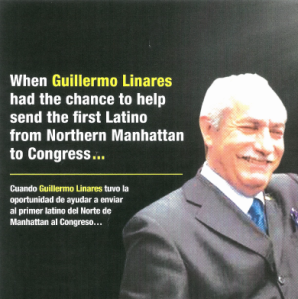 Adriano Espaillat has a tough mailer out against Guillermo Linares, accusing him of betraying the community. View the full item here.
Governor Cuomo has let loose his inner Democrat and endorsed Neil Breslin over the IDC-backed Shawn Morse.
Where can he go next to prove his progressive bona fides?
He spent the weekend assessing Albany's woes.
Despite the evidence, Eric Schneiderman and Tom DiNapoli's offices totally weren't involved in that whole Vito Lopez settlement thing.
Schneiderman said the Assembly has the legal ability to expel Vito Lopez.
From the inbox:
-NYC Parents Union endorsed Rodneyse Bichotte over Rhoda Jacobs.

-CWA endorsed Yen Chou for Grace Meng's seat.

-Chuck Schumer endorsed Steve Cymbrowitz over Ben Akselrod, saying, "He has truly delivered for my original assembly district and I know he'll continue to serve a district that is near and dear to me."

-Mark Murphy touches on this weekend's Michael Grimm/Ofer Biton stories by declaring, "Once Biton, But Not Twice Shy."

-Watch Dan Halloran kick off his campaign.
Gatemouth issued his endorsements, including his take on a number of interesting races this Thursday.
Roy McDonald, one of the "yes" votes on gay marriage, finds himself in the state's most expensive primary campaign.
Carlo Scissura is adjusting to a post-Marty Markowitz life.
Staten Island's James Molinaro is receiving criticism over a taxpayer-funded movie he's filming about his borough's garbage dump.
Avraham Tischler's campaign video shows him in a long talk with someone who turns out to not be a registered voter.
Walter Mosley spoke before the Prospect Heights Democrats for Reform.
The car was unionization effort, championed by the RWDSU, won its first big fight.
Average New Yorkers are tweaking neighborhood maps online.
President Obama outraised Mitt Romney in August.
Legal battles over early voting, voter ID, etc., could sway a tight election.
Paul Ryan and Joe Biden are preparing for their debate showdown.
Romney went on Meet the Press for the first time in a while.
Roll Call and CQ Today will merge.