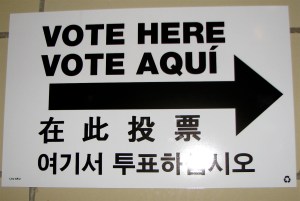 Siena's new internal poll showed Democrats Tim Bishop and Dan Maffei in solid positions.
Quinnipiac's latest continued to place Kirsten Gillibrand in a dominating position.
On Inside City Hall, Board of Elections Commissioner J.C. Polanco expressed confidence and hopefulness that today's primary election goes swimmingly.
An internal report shows that things didn't go that well in Manhattan for June's congressional primary.
Earlier this year, a tight special election in Brooklyn led to at least one poll worker making six figures in overtime.
Find out if it's even worth voting today by entering your address into the BoE website here and getting a sample ballot. For example, on my block in Brooklyn, only Democrats get to vote and only for a Civil Court race. Exciting!
NYT: "Vito J. Lopez may be preparing for his last hurrah as Brooklyn's pre-eminent power broker."
Tom DiNapoli's lawyers knew the exact amount the Assembly paid for Lopez's infamous settlement.
If the women involved talked to the public, they would have been fined $20,000. Transparency!
Sean Patrick Maloney has a tea-flavored television ad.
The City  Council is cracking down on illegal hotels.
The soda industry has conceded their battle against Mayor Bloomberg and is thinking about the war.
Another policy to be enacted today will a consent form requirement for a ritual circumcision.
President Obama is relying more on big contributors.
Saturday Night Live is returning this weekend, and there's going to be a shake-up as to who plays Obama. Mitt Romney? Why he's "easy to play because of that caution of his."