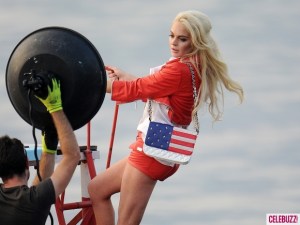 Today the NYPD released surveillance footage of the Wednesday-night incident that left actress Lindsay Lohan accused of striking a pedestrian then leaving the scene. The video may be more useful in defending Ms. Lohan than prosecuting her. It shows a typical late-night street scene, several people milling around a parking area entrance. Ms. Lohan's vehicle noses through then leaves the frame and no one seems alarmed or concerned. Take a look:
[protected-iframe id="26c549e138a28b7f7f1ccf0a18d5283b-35584880-35923819″ info="http://cdn.abclocal.go.com/static/flash/embeddedPlayer/swf/otvEmLoader.swf?version=fw1000&station=wabc&section=&mediaId=8818171&parentId=8817602&cdnRoot=http://cdn.abclocal.go.com&webRoot=http://abclocal.go.com&configPath=/util/&site=" width="400″ height="268″]
WABC reports that the cops may know the video won't help the case:
Detectives acknowledged that the video does not clearly show Lohan's Porsche hitting 34-year-old Jose Rodriguez. Investigators say the video does show Rodriguez running after Lohan's vehicle as she drove away from the Dream Hotel.
While police seem certain alcohol wasn't involved in the incident, Mr. Rodriguez has insisted otherwise, claiming Ms. Lohan was slurring words and smelled of alcohol.
Ms. Lohan could face more trouble in California if she did indeed strike Mr. Rodriguez and leave the scene. She is still on probation for jewelry theft.