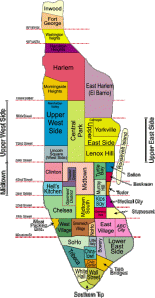 Real estate interests have a habit of rechristening neighborhoods into inelegant abbreviations that drive copy editors crazy: NoHo, NoLIta, ProCro. Or else they try to rebrand them as something dreadfully, hatefully bland like Clinton. If you're Hakeem Jeffries, you might propose legislation like the Neighborhood Integrity Act to stop this nefarious activity. But if you work for googlemaps, you just moderate the debate as best you can.
Amateur online cartographers, via user-generated wisdom banks like Wikipedia and Googlemaps, are increasingly defining neighborhood boundaries, The New York Times reports, particularly as formal atlases are abandoned for online ones. The process is fraught with cheeky attempts from real estate brokers, status-seekers and would-be Robert Moseses determined to wield whatever power they can via nomenclature.  One even tried to rename a section of the Brooklyn waterfront Rambo, for Right Around Manhattan Bridge Overpass.
Without any codifications from the city, the decision to strike down the Rambos falls on Matthew Hyland, a 31-year-old Brooklyn chef who makes the final decision on any changes to googlemaps' neighborhood oulines.  Last month, he told The Times that he received more than 2,000 proposed revisions to NYC neighborhoods from users of Google Map Maker. He is not paid for this work, although he does get a t-shirt.
The areas around Hudson Square, Turtle Bay, Tribeca and Chinatown are particularly controversial, Mr. Hyland says. It seems that real estate interests, unable to wipe Chinatown off the map and redevelop it into a village of luxury pied-a-terres, would at least like to wipe its name off the map and are continually pushing to claim its streets for the posher surrounding neighborhoods.
But some question the entire enterprise of defining neighborhoods.
"Anyone who says there is a defined neighborhood is off his rocker," Lisa Keller, the editor of The Encyclopedia of New York City told The Times.
Of course, stopping people from defining neighborhoods is even more impossible than stopping people from redefining them.
kvelsey@observer.com