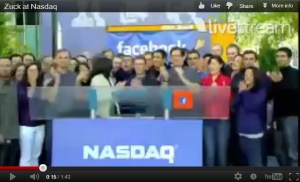 So the buck stops … here? After technical glitches at Nasdaq on the day of Facebook's initial public offering cost market makers millions of dollars, a pattern emerged. Nasdaq would offer to make good on some part of the losses, the market makers would grumble that said offer was unsatisfactory, and Nasdaq would come back with something a little bit better.
First, Nasdaq offered a $40 million compensation pool, with a healthy chunk to paid in credits on future trades.A month later, Nasdaq sweetened the pool to $62 million, with all claims to be paid in cash.
Not good enough for UBS, which said it would "take appropriate legal action against Nasdaq to address its gross mishandling of the offering and its substantial failures to perform its duties," i.e. the Swiss bank would sue the exchange over every penny of the $356 million it said it lost on the IPO. Not good enough for Citigroup either: "hundreds of millions of dollars of losses suffered by market participants in connection with the Facebook IPO resulted from a series of a series of hasty, self-interested and high-risk business decisions by Nasdaq," it said in a letter of its own.
And so it seemed reasonable to wonder whether Nasdaq would improve its compensation scheme yet again. Not this time, according to Reuters:
Nasdaq OMX Group Inc stood by its proposed $62 million plan to compensate firms affected by the fallout from Facebook's botched initial public offering, taking aim at UBS AG, Citigroup Inc and other parties that derided the payback plan. In a letter to the U.S. Securities and Exchange Commission dated September 17, Nasdaq said the proposed compensation pool "goes well beyond what is required under current Nasdaq rules."